Upcoming WRC Boot Camps
ACT Work Ready Communities Boot Camp
ACT's Work Ready Communities Boot Camp is for leaders who want to move aggressively forward into this 21st century approach to work readiness and economic development. The Boot Camp is a performance-driven program WRC leadership teams use to initiate, deploy and drive carefully tailored county and regional efforts that grow the number of counties certified as work ready. The goal is clear: On board and certify your counties.
WRC leadership teams shape a goal-oriented strategy that builds on deploying ACT's testing infrastructure and data gathering. However, the strategy must go beyond these two elements - and the ACT WRC initiative helps leadership teams do that by shaping what we call a 'challenge' that makes the most sense for each community's unique circumstances, including - critically - of work readiness. Successful teams are those willing to invest the team time and focus needed to shape and succeed against this challenge-centric approach.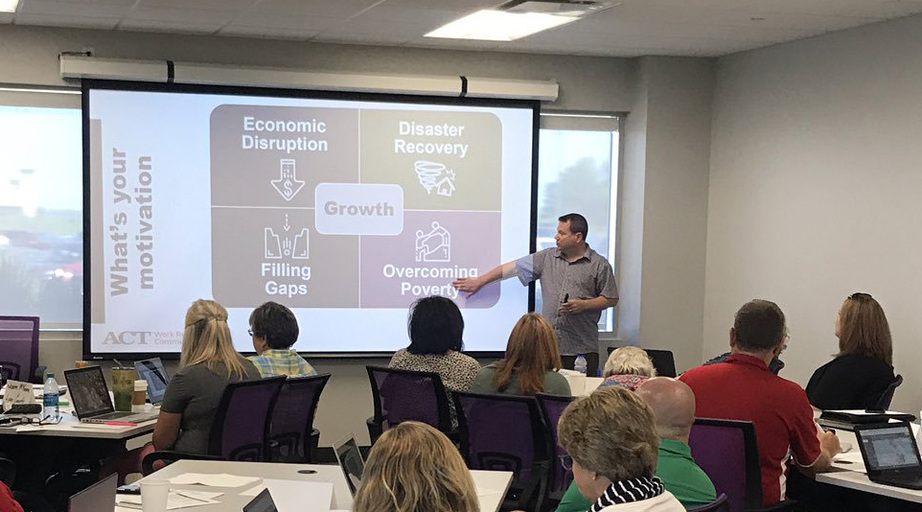 Image description: ACT's Jasen Jones presents at the Northeast Kansas Regional Boot Camp in Manhattan, KS.
What do Counties bring?
Participating county representatives are required to fund their travel to both sessions. The Boot Camp fee is $395 per person. Continental breakfast, lunch and snacks are provided.
Each county shall organize a cross agency team of government, educators, workforce, economic development and business/chamber leaders.
Two team members (required) from each county shall participate in the ACT® WRC® Boot Camp - which consists of 2, two day sessions.
Counties shall commit to developing, launching and sustaining a successful county certified ACT® Work Ready Community.
Counties shall have ACT® WorkKeys® tests and ACT® WorkKeys® National Career Readiness Certificates® accessible for individuals and employers.
What does ACT bring?
ACT shall provide the Boot Camp consisting of 2, two day sessions.
ACT shall work with counties to establish initial goals based on ACT® Work Ready Communities Common Criteria.
ACT shall provide data, process and tools in the Boot Camp to drive county initiative success.

Data: ACT® WorkKeys® NCRC® and employer supporting data for each county.
Process: The ACT® WRC® Boot Camp to help counties build a WRC® initiative.
Tools: Monthly website delivery of data, communication tools and more.
Leadership teams should consist of:
Chambers of commerce
Economic development organization
Workforce organization
Community or technical colleges
K-12 representative
County and municipal leaders
Businesses and leaders
Civic organizations
Counties who successfully launch WRC programs aligned with the ACT WRC Common Criteria will receive continued long-term support from ACT to sustain their initiatives post-WRC Boot Camp.
Approaches and topics covered include:
THE BASICS: ACT is providing process, tools and data to support building a common platform at the county level for measuring and closing the skills gap based upon the ACT WorkKeys NCRC. The model is built upon partnerships at the national, state and local levels and a Boot Camp approach to provide structure to the start-up and successful launch.
WHY COUNTIES? The LINK, ALIGN and MATCHING of the workforce is implemented at the local level. Having a process in place for county leaders to work together to match people to jobs, align workforce goals to economic development and link education and workforce together to improve the skill level is what county-level Work Ready Communities do.
THE PLAYERS: Employers, individuals (new to workforce, transitioning, already employed), state leaders, educators, economic development, chambers, workforce professionals, community leaders, families, media and more.
THE CHALLENGE: Assist WRC community teams develop a vision statement that serves as the focal point in developing and launching initiative.
LEADERSHIP: We help WRC teams figure out who needs to be at the table and how they can assist to make sure success happens.
For Communities
Become a Work Ready Community
To show your community's interest in participating in the ACT® Work Ready Communities initiative, complete this brief form.
Get Started
Economic Development Solutions
Economic Development leaders across the nation open many new doors of impact linked to their Work Ready Community efforts
View Brochure