Employer Toolkit
Occupational Profiles By Industry Sector
ACT has aggregated national job profile Work Keys data by common occupations in high demand industry clusters.
This information should be used only as a guide.
Verify A Certificate
If the individual has made their ACT WorkKeys NCRC information searchable for an employer, you may verify the level with ACT. To verify the ACT WorkKeys National Career Readiness Certificate (ACT WorkKeys NCRC) level of potential or current employees, enter the registration number here. The ACT WorkKeys NCRC registration number may be found on the front of the certificate as shown below: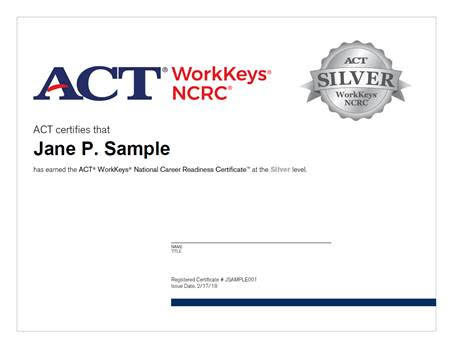 Browse the WorkKeys Applied Math, Graphic Literacy, and Workplace Documents required for more than 400 different jobs.

Occupational Skill Level Info
Browse the Occupational profiles to better understand the alignment between WorkKeys scores and occupational profiles.
Employer Directory
Find out which organizations are using ACT WorkKeys NCRC to pinpoint applicants with essential, verifiable workplace skills.

Download Our Brochure
"Being A Work Ready Community Champion allows the ease of hiring the best people, and trust what you hired them to do. It allows me to help match the employees to jobs based on verified skill levels. Finding the candidate who possesses the proper trade skill through the ACT Work Ready Program reduces the overall recruiting, onboarding and training cost. It's a win-win for all involved."
Tracey Faulkner
Director of Human Resources
R-Tech Tool & Machine, Inc.