Washington
Hover over the county name to view its location. Click to view full stats. NCRC Levels
Platinum

54

Gold

1,493

Silver

2,605

Bronze

610
//= number_format($data['plus']) ?>
Job Profiles Completed
47
NCRC Data: 01-01-2006 - 03-31-2017
Oct '16
Nov '16
Dec '16
Jan '17
Feb '17
Mar '17
Oct '16
Nov '16
Dec '16
Jan '17
Feb '17
Mar '17
54
21
21
21
21
21
21
Bronze
#cda874
9 5 3 4 4 12
Silver
#cbccce
9 21 15 7 13 23
Gold
#c9b973
3 13 13 4 11 8
Platinum
#dadfe3
0 1 0 2 1 0
Number Of Monthly NCRC Earned
Clicking an item in the legend above will allow you to filter data. Clicking 'Bronze' will hide it from the chart and clicking again will add it back.
2%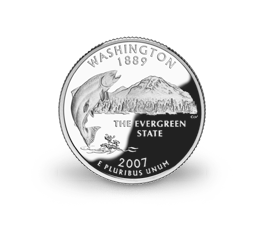 1 of 39 counties participating
Number Of Employers Supporting
About Washington Work Ready Communities
Work Ready Washington is a regional initiative to align workforce and education to support economic growth and business success across the state. It is guided by regional and state leaders, including employers, economic developers, elected officials, chambers of commerce, educators, and workforce development specialists.
The goal is to develop and document the high-quality workforce needed by businesses to improve retention, support expansion, and encourage relocation to the state. The foundational tool for Work Ready Washington is the ACT National Career Readiness Certificate™ (ACT NCRC®). This nationally recognized credential helps validate that a community has a skilled labor force.
The ACT NCRC also functions as a foundational standard upon which industry-specific credentials may be built. Prior to the fall 2014 launch of Work Ready Washington, four leading firms stepped up as champions for the initiative: Carbon Cycle Investments, West Coast Training, Subway, and Box K Auto Repair.
Work Ready Washington is aligned with the national vision of ACT Work Ready Communities — to attract, retain, and develop a workforce with the essential foundational skills to succeed in the 21st century.
For more information, visit the Work Ready Washington website or contact Dawn Karber of the Spokane Area Workforce Development Council at dkarber@wdcspokane.com.
Washington employers are recognizing the ACT NCRC in support of Work Ready Communities goals
Does your business support job applicants with a National Career Readiness Certificate?
About ACT
---
Founded in 1959, ACT is a not-for-profit organization headquartered in Iowa City, Iowa, and dedicated to helping people achieve education and workplace success. ACT provides a broad array of assessment, research, information and program management solutions in the areas of education and workforce development.