Minnesota
Hover over the county name to view its location. Click to view full stats. ACT WorkKeys NCRC Levels
Platinum

575

Gold

7,441

Silver

14,528

Bronze

4,809
//= number_format($data['plus']) ?>
Job Profiles Completed
15
ACT WorkKeys NCRC Data:
01-01-2006 - 03-31-2021
Oct '20
Nov '20
Dec '20
Jan '21
Feb '21
Mar '21
Oct '20
Nov '20
Dec '20
Jan '21
Feb '21
Mar '21
15
12
12
12
12
12
12
Bronze
#cda874
25 1 -1 1 12 19
Silver
#cbccce
25 10 5 0 15 10
Gold
#c9b973
5 5 4 0 5 15
Platinum
#dadfe3
7 7 7 0 2 12
Number Of Monthly ACT WorkKeys NCRC Earned
Clicking an item in the legend above will allow you to filter data. Clicking 'Bronze' will hide it from the chart and clicking again will add it back.
1%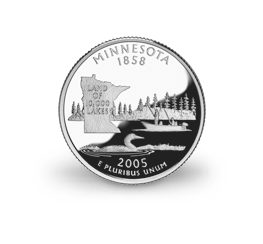 1 of 87 counties participating
Number Of Employers Supporting
About Minnesota Work Ready Communities
ACT Work Ready Communities (WRC) empowers counties and states with process, data and tools deployed in a common workforce development framework to drive economic growth by certifying counties as work ready communities when established goals are attained.
Think of it as a docking station where all participants plug into the common county-level ACT Work Ready Community criteria as part of establishing county goals.
The common criteria are based upon the ACT WorkKeys National Career Readiness Certificate (ACT WorkKeys NCRC) and business engagement to create a community-based workforce development process that links, aligns and matches the county's workforce development efforts to the needs of business and industry. The goal is for all participating counties to achieve certified work ready status.
ACT is leading this national effort with a two-session Boot Camp within a 3-month window to help participants share best practices, customize the national implementation framework or their own needs and build career pathways aligned to growth industries.
Minnesota employers are recognizing the ACT WorkKeys NCRC in support of Work Ready Communities goals
Pope County Housing and Redevelopment


Authority

Studio E Architects
Taco Bell
Does your business support job applicants with an ACT WorkKeys National Career Readiness Certificate?
Most Improved Counties
68%

Pope
About ACT
Founded in 1959, ACT is a not-for-profit organization headquartered in Iowa City, Iowa, and dedicated to helping people achieve education and workplace success. ACT provides a broad array of assessment, research, information and program management solutions in the areas of education and workforce development.