New Mexico
Hover over the community name to view its location. Click to view full stats.
Participating
Community
Certified
Community


ACT WorkKeys NCRC Levels
Platinum

765

Gold

6,776

Silver

20,331

Bronze

10,333
Job Profiles Completed
64
ACT WorkKeys NCRC Data:
01-01-2006 - 08-31-2022
Mar '22
Apr '22
May '22
Jun '22
Jul '22
Aug '22
Mar '22
Apr '22
May '22
Jun '22
Jul '22
Aug '22
589
104
104
104
104
104
104
Bronze
#cda874
6 7 14 2 5 2
Silver
#cbccce
7 11 14 10 5 9
Gold
#c9b973
4 7 7 7 12 7
Platinum
#dadfe3
0 2 5 2 3 6
Number Of Monthly ACT WorkKeys NCRC Earned
Clicking an item in the legend above will allow you to filter data. Clicking 'Bronze' will hide it from the chart and clicking again will add it back.
9%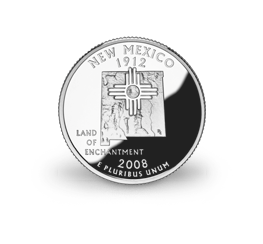 3 of 33 counties participating
Number Of Employers Supporting
About New Mexico Work Ready Communities
ACT Work Ready Communities (WRC) empowers communities and states with process, data and tools deployed in a common workforce development framework to drive economic growth by certifying communities as "work ready" when established goals are attained.
Think of it as a docking station where all participants plug into the common community-level ACT Work Ready Community criteria as part of establishing community goals.
The common criteria are based upon the ACT WorkKeys National Career Readiness Certificate (ACT WorkKeys NCRC) and business engagement to create a community-based workforce development process that links, aligns and matches the community's workforce development efforts to the needs of business and industry. The goal is for all participating communities to achieve certified work ready status.
ACT is leading this national effort with a two-session Boot Camp within a 3-month window to help participants share best practices, customize the national implementation framework or their own needs and build career pathways aligned to growth industries.
More on how to engage

New Mexico employers are recognizing the ACT WorkKeys NCRC in support of Work Ready Communities goals
Bloomfield Schools
Process Equipment & Service Co. Inc.


(PESCO)

San Juan County
Twin Stars LLC
Cooper Fire Protection Services
One Source Service LLC
Bloomfield Nursing Home
BAsin Coordinated Healthcare Inc.
Growth Potential
Horace Nissan Hyundai
Bank of the Southwest
E3 Power & Water
Farmington Chamber of Commerce
San Juan College
San Juan Regional Medical Center
Cascade Bottled Water
Four Corners Innovations Inc.
Red Lion Hotel Farmington
Dugan Production
Riley Industrial Services Inc.
A+Plus Well Service
Fundamentals Child Development Center
City of Tucumcari
Davis Plumbing & Mechanical Inc.
Legal Shield Business Solutions
Finish Line Graphics
Aztec Municipal School District
Microtel Inn & Suites
Citizens Bank
Animas Credit Union
LANE ELECTRIC INC.
City of Farmington
Merrion Oil & Gas
Bloomfield Schools
3E Energy Services Inc
Nelson Consulting Inc.
CBF Services
Vectra Bank
FCI Constructors Inc.
MISTIC
Auto Max
City of Bloomfield
Buena Vista Labs
Ace Hardware of Farmington
AutoMax
The Credit Bureau of Farmington
Tucumcari General Insurance
Boys & Girls Club of Farmington
Holiday Inn Express 7 Suites
C&J Equipment Manufacturing
Rugged Inc.
Central Consolidated School District
Mesalands Community College
Roadrunner Lodge LLC
Tucumcari Animal Hospital
Mis Amigos Family Services
Del's Restaurant
Kix on 66
Quay County
Arch Hurley Conservancy District
Farmington Municipal Schools
Sun Glass LLC
Cranes and Material Handling Inc.
Aztec Machine & Repair Inc.
Mocoez Inc.
Webb Automotive Group Inc.
D. J. Simmons Inc.
Clay-Groomer Machine Shop Inc.
Pickering Enterprises LLC dba On the


Spot Cleaning

SJS Co. Machine Shop
Dan C. Trigg Memorial Hospital
Benchmark Equipment & Tank Inc.
Bloomfield Machine & Welding Inc.
Advertising Ideas
TRC Construction Inc.
Custom Machine and Fabrication
Nightlight Electric Company Inc.
Guardian Angel Home Health Hospice and


Heavenly Homemakers

Northern Edge Casino
EZ Shade Steel Buildings
Wal Art Gallery
Horizon Home Health Services Inc
Namaste House Assisted Living LLC
Howard Supply Company
Alsco
Sonia Lukow CPA LLC
S/Inc
Merrion Oil & Gas Corporation
Webb Chevrolet Cadillac
A-1 Machine Inc
WESST
Guadalupe Community Development


Corporation

Anton Chico Economic Development
View all 104 New Mexico businesses supporting ACT WorkKeys NCRC
Does your business support job applicants with an ACT WorkKeys National Career Readiness Certificate?
About ACT
Founded in 1959, ACT is a not-for-profit organization headquartered in Iowa City, Iowa, and dedicated to helping people achieve education and workplace success. ACT provides a broad array of assessment, research, information and program management solutions in the areas of education and workforce development.