Indiana
Hover over the community name to view its location. Click to view full stats.
Participating
Community
Certified
Community


ACT WorkKeys NCRC Levels
Platinum

2,622

Gold

30,793

Silver

81,329

Bronze

26,846
Job Profiles Completed
1,063
ACT WorkKeys NCRC Data:
01-01-2006 - 08-31-2022
Mar '22
Apr '22
May '22
Jun '22
Jul '22
Aug '22
Mar '22
Apr '22
May '22
Jun '22
Jul '22
Aug '22
589
446
446
446
446
446
446
Bronze
#cda874
32 20 15 14 6 12
Silver
#cbccce
44 33 19 22 29 27
Gold
#c9b973
30 26 20 11 29 19
Platinum
#dadfe3
15 14 10 9 9 16
Number Of Monthly ACT WorkKeys NCRC Earned
Clicking an item in the legend above will allow you to filter data. Clicking 'Bronze' will hide it from the chart and clicking again will add it back.
7%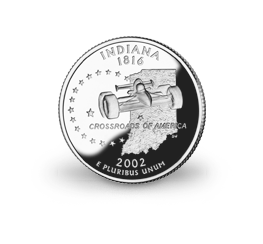 7 of 92 counties participating
Number Of Employers Supporting
About Indiana Work Ready Communities
ACT Work Ready Communities (WRC) empowers communities and states with process, data and tools deployed in a common workforce development framework to drive economic growth by certifying communities as "work ready" when established goals are attained.
Think of it as a docking station where all participants plug into the common community-level ACT Work Ready Community criteria as part of establishing community goals.
The common criteria are based upon the ACT WorkKeys National Career Readiness Certificate (ACT WorkKeys NCRC) and business engagement to create a community-based workforce development process that links, aligns and matches the community's workforce development efforts to the needs of business and industry. The goal is for all participating communities to achieve certified work ready status.
ACT is leading this national effort with a two-session Boot Camp within a 3-month window to help participants share best practices, customize the national implementation framework or their own needs and build career pathways aligned to growth industries.
More on how to engage

Indiana employers are recognizing the ACT WorkKeys NCRC in support of Work Ready Communities goals
INTAT Precision Inc.
Pioneer Hi-Bred
Emerson Climate Technologies
Alliance for Strategic Growth
Alliance for Strategic Growth
Alliance for Strategic Growth
Alliance for Strategic Growth
Muncie Novelty Company Inc.
Indiana Ticket Compnay Inc.
InGate Solutions
Delaware County Government
Bervini USA
Littler Diecast
Magna Powertrain
Lift-A-Loft
City of Winchester
Reber Machine and Tool
Rush County Economic & Community


Development Corporation

Ingersoll Rand/Trane
Barada Law Offices LLC.
EDC of Wayne County
Wayne County Government
Wayne County Area Chamber of Commerce
Rush County Chamber of Commerce
City of Rushville
Barada Associates Inc.
Omega Enterprises
Cardinal Ethanol
City of Union City
Glass Components Inc.
Eco Vehicle Systems
Frank Miller Lumber
Meridian Health Services
B and M Steel and Welding
Astral
Holland Colours Americas Inc.
Reid Hospital & Health Care Services
Rush Memorial Hospital
Rush County
WELLS BOILER WORKS
DELAWARE GLASS & MIRROR
Ontario Systems LLC
First County Federal Credit Union
Extendicare
Arrowhead Plastics Engineering Inc
Georgia Direct Carpet Inc.
Ivy Tech Community College/Richmond
Birth-to-Five Inc.
Saver Systems
Ball Brothers Foundation
Muncie Innovation Connector
Brevini Power Transmission
Barry Hanna Enterprises Inc./DNA Hanna


Auto Body

Wayne County Foundation
Richmond Baking Company
Achieva Resources Corporation Inc.
Magna-Tech Manufacturing Corp
AAA Interstate Transportation LLC
Ohio Valley Gas Corp
Behavior Associates
Superb Smiles Dental Care LLC
Deborah Ripberger CPA
Stacey
Pavey Management Group
Culy Contracting Inc.
Hometown Electronics
Neudecker Manufacturing LTD
Sandifar Automotive Group
Winchester Community High School
Randolph Eastern School Corp.
Randolph Economic Development Corp.
Union School Corp
CSC Landscape Maintenance
Wimmer Manufacturing
Liberty Tax Service
Jud Construction
First Bank Richmond NA
Richmond Furniture Gallery
West End Bank
Ahaus Tool and Engineering Inc.
International Floral Distributors Inc.
Wayne Bank and Trust Co.
Primex
Dot Foods
B & F Plastics
Center City Development
Brewer Broadcasting : WQLK/WHON
Richmond Power and Light
TBK America
City of Richmond
Castle Pawn Shop
Karemar Productions
Heritage House
Porter Advertising LLC
Ohio Valley Gas
Pardo's Towing Service
Bader Services Inc
Wilson Lawson Myers
Better Homes & Gardens Real estate -


First Realty Group

Morrisson-Reeves Library
Bartel Guiley Group of Raymond James
Finance System of Richmond Inc.
Whitewater Valley REMC
Gillam & Zetzl Inc.
Wayne County Convention & Tourism Bureau


Inc

Purdue Polytechnic Insitute Richmond
City of Connersville
Fayette County Government
MoorePrecisionMachiningLLC
CEI corporation
Harvey Brothers Construction LLC
Rosa's Office Plus
Richmond State Hospital
Richmond Community School
Forest Hills Country Club
Youth as Resources
The Leland Legacy
Little Sheba's
The Excel Center Richmond
Champion Target
The Waters of Muncie
Senior Helpers
Mid-West Metal Products
C&NC Railroad Corp
MutualBank
Reliance Machine Company
Hillcroft
Vorzeigen
Urban Enterprise Association
IU Health Ball Memorial Hospital
MEG
First Merchants Bank
Muncie Indiana Transit System
Exide Technologies
Heartland Ambulance Service
Stant USA Corporation
Plumbers & Steamfitters Union Local 440


Training Office

Cowan Community School Corp
DIY Group
Sheet Metal Workers Local No. 20
Carter Logistics LLC & Carter


ExpressInc.

Spherion Staffing Services
Goowill Industries of Central Indiana
Productivity fabricators Inc.
Carpenters Union local 1016
All Steel Carports
Vectren Corporation
Ivy Tech Corporate College East Central


Indiana

Powerline Transportation
Muncie Central High School
Fayette Regional Health System
Tiedemann-Bevs Industries Inc
Abilities
5th Street Cafe
Designer Consignor
Phillips Drugs
Fayette County School Corporation
Perpetual Recycling Solutions
Robinson Real Estat
Transilwrap
Ullery's Homemade Ice Cream LLC
United Way of Whitewater Valley
G and G Peppers LLC
H&P Tool Company
Brady Ware & Company
Noble Order Brewing Company
Turner Insurance
Wetzel Auto
Contract industrial Tooling
Hometown Dining Company
PTC Alliance
Embellish
Graphcor Inc
Reid Health
Reid Health Physician Associates
Corydon Wood Products LLC
Boys & Girls Clubs of Harrison-Crawford


Counties

Turtle Run Winery
Wright Implement LLC
Old Capital Veterinary Hospital
Giacomo's
Harrison County Hospital
Blue River Services Inc
T.K. Wholesale LLC
Briarwood Custom Cabinets
First Capital Tourism Development Corp.
dba Harrison County Convention &


Visitors Bureau

Schmidt Cabinet Creations
Hoosier Hollywood Development LLC
Olde Town Strore
Leadership Harrison County
Preferred Popcorn
Awningtec USA Inc.
TS-TECH INDIANA
TS Tech Indiana LLC
Catalyst
Triple Impact LLC
Burger King
Catalist
Stephanie Newsham CPA
EDC of Wayne County Indiana
Rush County Community Foundation
Farmers Insurance
Corteva Agiscience
Indiana Farm Bureau
CVS Health
Kent Java Bar
Art's Cleaners
Brian Leslie Salon
View all 446 Indiana businesses supporting ACT WorkKeys NCRC
Does your business support job applicants with an ACT WorkKeys National Career Readiness Certificate?
About ACT
Founded in 1959, ACT is a not-for-profit organization headquartered in Iowa City, Iowa, and dedicated to helping people achieve education and workplace success. ACT provides a broad array of assessment, research, information and program management solutions in the areas of education and workforce development.