Arkansas
Hover over the community name to view its location. Click to view full stats.
Participating
Community
Certified
Community


ACT WorkKeys NCRC Levels
Platinum

4,507

Gold

23,682

Silver

54,764

Bronze

22,315
Job Profiles Completed
127
ACT WorkKeys NCRC Data:
01-01-2006 - 10-31-2023
May '23
Jun '23
Jul '23
Aug '23
Sep '23
Oct '23
May '23
Jun '23
Jul '23
Aug '23
Sep '23
Oct '23
589
1074
1087
1094
1108
1109
1112
Bronze
#cda874
357 34 20 18 38 524
Silver
#cbccce
346 41 26 29 66 452
Gold
#c9b973
202 28 23 18 49 292
Platinum
#dadfe3
69 14 10 15 35 130
Number Of Monthly ACT WorkKeys NCRC Earned
Clicking an item in the legend above will allow you to filter data. Clicking 'Bronze' will hide it from the chart and clicking again will add it back.
62%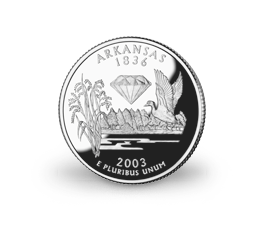 47 of 75 counties participating
Number Of Employers Supporting
About Arkansas Work Ready Communities
Known as the Natural State, the Arkansas Economic Development Commission (AEDC) describes its diverse economic mix where global retailers are neighbors to massive data curators. Biotechnologists rub elbows with industrial manufacturers. Alternative energy providers share communities with logistics specialists.
More than half of Arkansas counties participate in Work Ready Communities. The Southeast Arkansas Economic Development District of ten counties became the first Work Ready region in 2022. Mississippi County was first to certify as a WRC in May 2017.
AEDC invests in WorkKeys Job Profilers as a service to new and existing industry. The WorkKeys NCRC is available through Arkansas Workforce Centers along with a network of high schools and community colleges.
Arkansas Higher Education seized the opportunity for use of the WorkKeys NCRC as prior learning assessment for academic credit. Three-credit recommendations provide guidance on technical math and technical writing.
More on how to engage

Arkansas employers are recognizing the ACT WorkKeys NCRC in support of Work Ready Communities goals
Forrest City Area Chamber of Commerce
H&R Block
Westside Consolidated School District
Murphy's Auto Body Frame
Martin McNew Insurance
GopherPrime
Kentucky Fried Chicken
Brent Higgins Trucking Inc.
Dickerson Hardware Inc.
Medi-Quik Pharmacy
KMA LLC
Rent-A-Center
Dumas Motor Company Inc.
The Sign Shop
View all 1115 Arkansas businesses supporting ACT WorkKeys NCRC
Does your business support job applicants with an ACT WorkKeys National Career Readiness Certificate?
About ACT
Founded in 1959, ACT is a not-for-profit organization headquartered in Iowa City, Iowa, and dedicated to helping people achieve education and workplace success. ACT provides a broad array of assessment, research, information and program management solutions in the areas of education and workforce development.