Arkansas
Hover over the community name to view its location. Click to view full stats.
Participating
Community
Certified
Community


ACT WorkKeys NCRC Levels
Platinum

3,063

Gold

21,026

Silver

50,447

Bronze

18,207
Job Profiles Completed
127
ACT WorkKeys NCRC Data:
01-01-2006 - 08-31-2022
Mar '22
Apr '22
May '22
Jun '22
Jul '22
Aug '22
Mar '22
Apr '22
May '22
Jun '22
Jul '22
Aug '22
589
935
949
956
959
975
984
Bronze
#cda874
332 711 540 38 22 23
Silver
#cbccce
364 832 533 37 31 27
Gold
#c9b973
211 491 278 38 27 20
Platinum
#dadfe3
138 298 148 20 21 12
Number Of Monthly ACT WorkKeys NCRC Earned
Clicking an item in the legend above will allow you to filter data. Clicking 'Bronze' will hide it from the chart and clicking again will add it back.
45%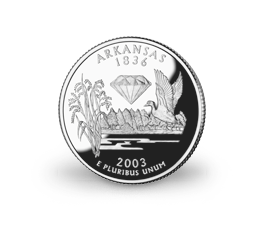 34 of 75 counties participating
Number Of Employers Supporting
About Arkansas Work Ready Communities
ACT Work Ready Communities (WRC) empowers communities and states with process, data and tools deployed in a common workforce development framework to drive economic growth by certifying communities as "work ready" when established goals are attained.
Think of it as a docking station where all participants plug into the common community-level ACT Work Ready Community criteria as part of establishing community goals.
The common criteria are based upon the ACT WorkKeys National Career Readiness Certificate (ACT WorkKeys NCRC) and business engagement to create a community-based workforce development process that links, aligns and matches the community's workforce development efforts to the needs of business and industry. The goal is for all participating communities to achieve certified work ready status.
ACT is leading this national effort with a two-session Boot Camp within a 3-month window to help participants share best practices, customize the national implementation framework or their own needs and build career pathways aligned to growth industries.
More on how to engage

Arkansas employers are recognizing the ACT WorkKeys NCRC in support of Work Ready Communities goals
Great River Economic Development


Foundation

Mississippi County
City of Gosnell
City of Osceola
City of Jonesboro
Armorel School District
Blytheville Public Schools
Osceola/SMC Chamber of Commerce
Arkansas Department of Workforce
Barton Lumber Yard
Mississippi County Library System
D&L Incorporated
Blytheville-Gosnell Regional Airport


Authority

Nucor
Sudbury Broadcasting Group
First National Bank of Lawrence County
Columbia Forest Products
Jonesboro School District
Knowledge Works
Rivercrest School District
Security Mini Storage
Storage in a Snapp
Alamo Court Inc.
Town of Black Oak
The City of Caraway
Town of Maynard
Town of Reyno
City of Cherry Valley
Town of Cash
Town of Dell
Regal
In Home Senior Care
Shawn Chafin State Farm Insurance
Smith Mayfield LLC
Hubbard & Hoke
CPM Inc
Farmers Bank and Trust
American Railcar Industries Inc.


Marmaduke

Southern Bancorp Bank
American Railcar Industries Inc.
First National Bank of Eastern Arkansas
City of Black Rock
Randolph County
Cedric Williams Insurance
Cedric Williams Insurance Company
Forrest City Area Chamber of Commerce
Capital Financial Service Group
First National Bank of Lawrence County
Nielson Bainbridge
AID Temporary Services
ESNA
Service Abstract and Title Inc.
River Bank
1st Choice Healthcare Inc
Hydro Temp Corporation
Spring Designs
Robert Bosch Tool Corporation
The Doni Martin Center for Developmental


Services

City of Marmaduke
Drew Bevill Lawn Care LLC.
Me & My Sister
Workforce Development Board-Eastern
Crossett Floral
H&R Block
H&R Block
MVC Construction
BoysGirlsAdults Community Development


Center

Delta Circles
GREATER BYTHEVILLE AREA CHAMBER OF


COMMERCE

Burnt Cane Construction
Arkansas Steel Processing
Dawson Employment Service Inc.
Venus Corporation
Staffmark Blytheville AR
Westside Consolidated High School
Jonesboro High School
Crystal/Randy/Kelsey & Terrence Daycare
City of Marianna
Core-Mark Distributors
City of West Memphis
Westside Consolidated School District
Nettleton Public School District
Nettleton High School
Valley View Public Schools
Southworth
Jonesboro Public Library
Optus Inc.
Staffmark
Alexander's Machine Shop
Express Employment Professionals
Aspen Transportation
Post Consumer Brands
Unilever
Circle N Market #800
Circle N Market #1400
Circle N Market #100
Circle N Market ##600
Circle N Market #1400
Circle N Market #200
Circle N Market #700
Circle N Market #900
Circle N Market #1000
Circle N Market #1100
Strive Institute of Technology
Cynthia's Daycare
Dependo Auto
BlueOak Arkansas LLC
Hino Motors Manufacturing USA Inc
Phillips County Chamber of Commerce
Omnimax Coated Products
Nibco Inc
Aviation Repair Technologies
Five Star Hydraulics
Bistro Eleven 21
Comfort Inn & Suites
Holiday Inn Blytheville
Perkins Restaurant & Bakery
Delta Cartage
Caruthersville Cotton Warehouse
Langston Enterprises Inc
City of Blytheville
NIBCO
Black Hat Enterprses Inc DBA Mailboxes


and Beyond

Gosnell School
Westminster Village of the Mid-South
City of Marvell
Phillips County
Sodexo
Pretty Flowers & More
Lee County Water Association Inc
Creating Bright Futures
Boys and Girls Club of Crittenden County
Little Zion Learning Center
St. Francis County
Lee County
Wonder City Boys & Girls Club
Ashcraft Wood Products Corp.
First United Methodist Church
Fulghum Fibres
Mallard Medical Supply LLC
Union Bank & Trust
Armstrong Flooring
JJ's House of Soul LLC.
Warren School District
Shoney's West Memphis
Dr. James P. DeRossitt M.D.
Chapel Ridge Forrest City
Crowley's Ridge Technical Institute
City of Helena/West Helena
Helena-West Helena Water-West Side
Helena-West Helena Water Dept.-East Side
Forrest City Independent Living
St Francis Area Developmental Center
Beth Place Group Home
St. Francis Center-Transitioning
Transitions-West Memphis
Transition-Marianna
Walmart Super Center
Holt Auto Group
Southern Mill Feed
Crossett Public Library
Georgia-Pacific Corporation
Rodgers Financial Group LLC
Family Clinic of Ashley County
First National Bank of Crossett
First Baptist Church of Crossett
Kinard Jewelers
Murphy's Auto Body Frame
Steve's Body & Frame
Car City Of Jonesboro
Crossett Public Schools
First State Bank of Crossett
Clanton Farms
City of Hermitage
City of hermitage
Link Investment Services
Craighead County
Dan Pevy Agency
Crestpark of Wynne-Skilled
ASU Childhood Services
Wynne Public Housing Authority
Boys & Girls Club
Crowley's Ridge Developmental Council
Trinity Lighting Inc
Best Manufacturing Inc
Jonesboro Manufacturing Company
Spirit Fitness
Windmill Rice Co LLC
Art Advertising
Atlas Asphalt Inc
Hedger Brothers Concrete Production
Kenney Manufacturing Co
Master Group
Crittenden County
Helena-West Helena Public School Central


High

T. F. Wahl Elementary School
Swift Staffing
Lawn and Power LLC
City of Star City
GCA Custodial Services
CASA Womens Shelter
Hamburg Floral
Kiswire PB Inc.
WIN'S Inc.
Southeast Arkansas Economic Development


District

Amazing Restorations LLC
Highland Pellets
Trotter Auto Group
Western Foods
Energy Security partners LLC
Martin McNew Insurance
B3 Properties Inc.
Uptown Salon & Boutique
XDD Products USA LLC
University Heights Elementary School
Valley View High School
Westside Elementary School
Food Bank of Northeast Arkansas
Jefferson County Judge
Indian Hills Apartments
Ideal Construction
Ideal Construction Company
M.K. Distributors Inc.
Calpine - Pine Bluff Energy Center
Tri-W Logging Company
A&W Logging Company
Wilson Bros Lumber Company LLC
HLN Inc
Twin Rivers Pine Bluff LLC
City of Walnut Ridge
Lawrence County
Walnut Ridge Regional Airport
Allegis Corporation
City of Hoxie
The Times Dispatch
Guaranty Insurance Agency
Guaranty Loan & Real Estate Co.
Rowan Construction Services LLC
GopherPrime
Helena-West Helena Fire Department
Pafford Medical Services
Caldwell Home Medical
Essence Stylez & Kutz
Colvin Carpets
Kentucky Fried Chicken
Ann Chapman's
Simmons Quik Stop
Chicot County
City of Lake Village
Fox's Pizza
Myers-Beatty Engineering PLLC
Dickerson Hardware Inc.
Arkhola Sand & Gravel Co
Dairy Dip
Sunflower
Unique Impressions
City of Dermott
Wayne Edwards Parts & Services Inc
Dixon Towing & Auto
Sunflower Grocery Deli & Pizza
Sibley Auto
Epstein Gin Co
J J's Lakeside Cafe
Creative Design Concepts LLC
King's Travel Mart
Mulberry Senior Center
Lee Jackson Construction
Attic Treasure
FreeHawk Lodging & Event Center
SGL Carbon / HITCO Carbon Composites
Paul Shepherd Auto Inc
Pasta Grill
Department-Workforce Services
KMA LLC
Center for Economic Development and


Community Engagement

St. John Masonry and Consulting LLC
Business Professional Services/ H & R


Block

Mr. Eaton Childcare
Southern Hardware
Majestic Home Care LLC
Marcheal's Daycare
Rent-A-Center
SUBURBAN COMPUTER SOLUTIONS LLC
Desha County Judge
Sharp Building Materials Company
Dumas Motor Company Inc.
Sonic Drive In
State Farm Insurance
Suburban Computer Solution
WOODRUFF Electric
The Sign Shop
New Haven Missionary Baptist Church
Partners Bank
Polk Farms
Insurance Plus
the family center helena ar
Moon Lake Farms of Arkansas - 2
Something Special
Fang's Lightning Wash
eDelta.net
Delta Current
Flowers Baking Co of Batesville LLC
Mike Turner CPA
David's Installations
Thaxton Family Limited Partnership
Marvin D. Thaxton Attorney
Thaxton Planting Company Inc.
Stafford Inc.
C & C Distributors
Mullins Patti J DDS
Shearers
The Phone Men
Phoenix Youth & Family Services
Phoenix Youth & Family Services
Young's Barbecue
Fletcher Surveying
Family Vision Center
Neighborhood Cleaners
Wayland Realty
charee's emporium
Subway
Xtreme Diesel Services LLC
HOME on Hunger Run LLC
Stuttgart Municipal Airport
Stuttgart Industrial Development Corp
City of Stuttgart
City of Dewitt
Gillet
Almyra City Hall
City of St Charles
City of Humphrey
Auto Credit Corporation
Cavenaugh GM Supercenter Chevrolet


Service

CAVENAUGH HYUNDAI
Cavenaugh Kia
Cavenaugh Ford Lincoln LLC
Faultline
U-Save Car & Truck Rental
MDS Properties LLC
Lawrence Memorial Hospital.
Lawrence Hall Nursing Center
Sloan Law Firm
The Spider's Webb
Watson Oil Company
City of Corning
FRIENDS
Sevier County Medical Center
McDonald's
Latrobe
Carvana
Mueller Copper Tube Products
B&K
City of Texarkana AR
Desha Volunteer Fire Department
Bowman Handles Inc.
Tom's Tuckpointing LLC
Ozark Area Chamber of Commerce
City of Ozark
ABB Motors and Mechanical Inc
City of Magnolia
Magnolia Columbia County Chamber of


Commerce

White River Now
Mississippi County AR Economic


Development

Citizens Bank
Bank of Cave City
Network of Community Options
Sweet Tooth Frozen Delights
Farm Bureau Insurance
Ozark Pride and Beautification
Arkansas Valley Electric Cooperative
Today's Bank of Ozark
Tasty Freeze
Shaffer Funeral Home
City of Waldron
Solomon Steel Corporation
Phoenix Services LLC
Prescott-Nevada County Economic


Development Office

City of Prescott
Nevada County
South Central AR Electric Coop
Siplast
South Central Connect LLC
Franklin County
Apex Tool Group
Jim's Tire & Auto Service
MTG Engineers & Surveyors
Wadley Regional Medical Center
Mayo Furniture
Ledwell
View all 988 Arkansas businesses supporting ACT WorkKeys NCRC
Does your business support job applicants with an ACT WorkKeys National Career Readiness Certificate?
About ACT
Founded in 1959, ACT is a not-for-profit organization headquartered in Iowa City, Iowa, and dedicated to helping people achieve education and workplace success. ACT provides a broad array of assessment, research, information and program management solutions in the areas of education and workforce development.