Kansas
Hover over the community name to view its location. Click to view full stats.
Participating
Community
Certified
Community


ACT WorkKeys NCRC Levels
Platinum

7,272

Gold

18,893

Silver

33,520

Bronze

19,053
Job Profiles Completed
120
ACT WorkKeys NCRC Data:
01-01-2006 - 08-31-2022
Mar '22
Apr '22
May '22
Jun '22
Jul '22
Aug '22
Mar '22
Apr '22
May '22
Jun '22
Jul '22
Aug '22
589
360
361
361
362
376
376
Bronze
#cda874
57 61 43 44 85 97
Silver
#cbccce
87 78 92 68 87 111
Gold
#c9b973
63 61 65 55 74 80
Platinum
#dadfe3
61 29 50 43 47 49
Number Of Monthly ACT WorkKeys NCRC Earned
Clicking an item in the legend above will allow you to filter data. Clicking 'Bronze' will hide it from the chart and clicking again will add it back.
10%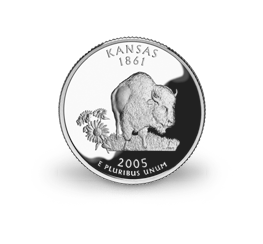 11 of 105 counties participating
Number Of Employers Supporting
About Kansas Work Ready Communities
ACT Work Ready Communities (WRC) empowers communities and states with process, data and tools deployed in a common workforce development framework to drive economic growth by certifying communities as "work ready" when established goals are attained.
Think of it as a docking station where all participants plug into the common community-level ACT Work Ready Community criteria as part of establishing community goals.
The common criteria are based upon the ACT WorkKeys National Career Readiness Certificate (ACT WorkKeys NCRC) and business engagement to create a community-based workforce development process that links, aligns and matches the community's workforce development efforts to the needs of business and industry. The goal is for all participating communities to achieve certified work ready status.
ACT is leading this national effort with a two-session Boot Camp within a 3-month window to help participants share best practices, customize the national implementation framework or their own needs and build career pathways aligned to growth industries.
More on how to engage

Kansas employers are recognizing the ACT WorkKeys NCRC in support of Work Ready Communities goals
Columbus Telephone Company
KMT Waterjet
Labette Community College
Columbus News Report
Cherokee County Economic Development


Corporation

Magnum Systems Inc.
Columbus USD 493
The Empire District Electric Company
Cherokee County
Galena School District
Hilderbrand Agency LLC
Tank Connection
Parsons Dental Care LLC
Alexander Manufacturing
The Flesh Company
Bartlett Co-op Assn.
USD 506 Labette County
Power Flame
American Bank of Baxter Springs
ATEC Steel LLC
Great Plains Development Authority
Tank Connection LLC
Alliance Construction
Stockyards Plaza Inc
Jayhawk Fine Chemical
PEC Physical Therapy & Fitness
Labette County Sheriff Dept.
Crossland Heavy Contractors
Kingey-Kellum Agency
Diversified Sports Technologies LLC
Midwest Color Graphics
Johns Manville
Midwest Ace Hardware
Foot Locker Distribution Center
Bramlage Investments
Handy's Convenience Stores
Kansa Development Corp.
Southeast Kansas Community Action


Program Inc.

Maher Works Inc.
Chemstar Products
UPU INDUSTRIES INC.
USD 321
Pottawatomie County
USD 322
Community Healthcare System Inc
Purple Wave Inc
USD 323 Rock Creek High School
Hope Lutheran Early Learning Center
Abbott Workholding Products
USD 383 Manhattan/Odgen Schools
Pawnee Mental Health Services
Bayer Construction Company Inc
Wildcat Creek Fun & Fitness
Senna LLC Brilliant Beginnings
Little Love Bugs Learning Center
City of Manhattan
RF Benchmark Construction
Animal Care Clinic PA
Carley Construction Co Inc
Alternative Air
Davcon Trucking
Electrical Concepts Inc
Leiszler Oil
4th & Elm Bar and Grill
USD 320 Wamego Schools
Community Health Ministry
Kleencrew
Sugar Creek Country Store
Green Dot Bioplastics
Peoples State Bank
South 40 Cafe
Kaw Valley Exterminator
Brown Chevrolet Buick
Midland Exteriors
Musa Brother Supply
Friendship House
Reed Co LLC
Kansas Premium Meats
Kansas Hardwoods
Via
Florence Corporation
Westy Community Care Home Inc
Howell Lumber Company
Dry Clean City
Sarto Countertops
Crossland Construction
LaFarris Holdings
Affordable Electric Inc
Shilling Construction Company Inc.
Champion Teamwear
Cherokee County Extension
Farmers Cooperative Association
Spring River Mental Health & Wellness


Inc.

BHS Construction
Onaga Meat Processing
Labette County Economic Development
The Home Store
Bluestem Orchard
Oz Winery
Crossland Construction Company Inc.
Widgets Family Fun
Home of the Flint Hills
Wildcat Fitness & Fun
Adventure Time Child Care
Purple Wave Auction
Riverton USD 404
DeAnn Auman Hill CPA
4-State Printing
Thrive! Butler
El Dorado Inc.
CJ Foods Inc.
HomeAdvisor
USD 247
B.E.S.T. Plumbing & Heating Inc.
KissTECH LLC.
CLASS LTD
D1 Resources
Medicalodges Columbus
Coffeyville Community College - Columbus


Technical Campus

Bagcraft Packaging
City of Weir KS
Smallville CrossFit
Wamego Area Chamber of Commerce
Loretta's Artisanal Bakery and Cafe
Bank of Greeley
Pyramid Foods/Country Mart
Tanya's Piano Studio
Williams Diversified Materials Inc.
Paramour Coffee
SEK Interlocal 637
Simmer Motel
Brummel Farm Services
Baxter Springs USD 508
City of Columbus
Sleepygirl's Furniture & More
Somewhere in Time Antiquities
Columbus Chamber of Commerce
Rocking M Media - Pratt
King Louie America Llc
Williams Machine & Tool Company
Monarch Pharmacy & Soda Fountain
Cowtown Liquor
Decade of Wheels
Mid America Pipe
R&J's Liquor
CBW Bank
Pepsi-Cola of Manhattan
Dunkin' Donuts
Albert Hogoboom Oil Field Trucking
B/S Repair
OCI Image Team
Graphic Concepts Inc
Briggs Construction Inc.
Kansas Mobile Throne
Kansas Mobile Throne
Valmont Industries Inc.
Superior Auto Care
Russell Marine Products
Walmart DC 6035
Perry Electrical Systems
FlowMark Vacuum Trucks
KOFO
Auburn Pharmacy
Kcirrigation And Sprinklers
View all 376 Kansas businesses supporting ACT WorkKeys NCRC
Does your business support job applicants with an ACT WorkKeys National Career Readiness Certificate?
About ACT
Founded in 1959, ACT is a not-for-profit organization headquartered in Iowa City, Iowa, and dedicated to helping people achieve education and workplace success. ACT provides a broad array of assessment, research, information and program management solutions in the areas of education and workforce development.