South Carolina
Hover over the community name to view its location. Click to view full stats.
Participating
Community
Certified
Community


ACT WorkKeys NCRC Levels
Platinum

6,541

Gold

76,214

Silver

247,766

Bronze

137,294
Job Profiles Completed
1,513
ACT WorkKeys NCRC Data:
01-01-2006 - 08-31-2022
Mar '22
Apr '22
May '22
Jun '22
Jul '22
Aug '22
Mar '22
Apr '22
May '22
Jun '22
Jul '22
Aug '22
589
3471
3471
3471
3471
3472
3472
Bronze
#cda874
37 45 31 8824 33 45
Silver
#cbccce
68 56 42 7678 47 58
Gold
#c9b973
28 44 43 4511 24 49
Platinum
#dadfe3
15 21 30 2827 17 25
Number Of Monthly ACT WorkKeys NCRC Earned
Clicking an item in the legend above will allow you to filter data. Clicking 'Bronze' will hide it from the chart and clicking again will add it back.
100%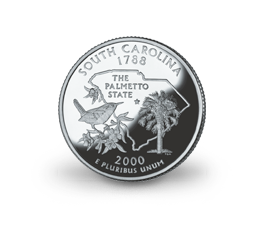 46 of 46 counties participating
Number Of Employers Supporting
About South Carolina Work Ready Communities
ACT Work Ready Communities (WRC) empowers communities and states with process, data and tools deployed in a common workforce development framework to drive economic growth by certifying communities as "work ready" when established goals are attained.
Think of it as a docking station where all participants plug into the common community-level ACT Work Ready Community criteria as part of establishing community goals.
The common criteria are based upon the ACT WorkKeys National Career Readiness Certificate (ACT WorkKeys NCRC) and business engagement to create a community-based workforce development process that links, aligns and matches the community's workforce development efforts to the needs of business and industry. The goal is for all participating communities to achieve certified work ready status.
ACT is leading this national effort with a two-session Boot Camp within a 3-month window to help participants share best practices, customize the national implementation framework or their own needs and build career pathways aligned to growth industries.
More on how to engage

South Carolina employers are recognizing the ACT WorkKeys NCRC in support of Work Ready Communities goals
PPG
Barnwell County EDC
Barnwell County Chamber of Commerce
Laurens Commission of Public Works
ISO Poly Films Inc.
Laurens County School District 56
Laurens County School District 55
Laurens County Chamber of Commerce
Laurens County Development Corporation
Teknor Apex
Laurens County Water & Sewer Commission
Norbord SC
Saluda County Chamber of Commerce
Saluda County Council
Piedmont Technical College - Saluda
Saluda County Economic Development


Corporation

Kiswire Inc.
Shakespeare Composite Structures
Milliken & Company - McCormick Plant
Laurens County LIfe Long Learning
Kronotex USA
Climax Global Energy
NK Newlook
SC Tissue
National Beverage Screen Printers
John De La Howe School
Horshead Corporation
Low Country Health Care System Inc.
Generations Unlimited
Axis 1
City of Barnwell
Prysmian
McCormick County Government
Laurens County Healthcare System
EnergySolutions
Piedmont Technical College
ZF Transmissions
Allendale Barnwell Disabilities &


Special Needs Board

Barnwell County Hospital
Sasco Safety
Cooper Power Systems
United Way of Laurens County
Richloom Fabrics
Asten Johnson Inc.
ACI Industries. LLC
The Clinton Chronicle
CeramTec N.A.
Williston School District 29
Reid's
Unitech
Advanced Machine Works Inc.
Phillips Staffing
Phillips Staffing
JM Mold South Inc.
Phillips Staffing
Diversified Medical Services LLC
Husqvarna
United Tool & Mold Inc.
United Tool & Mold Inc.
Phillips Staffing
Phillips Staffing
Phillips Staffing
Phillips Staffing
Phillips Staffing
Phillips Staffing
School District of Pickens County
Phillips Staffing-Easley
Sauer Danfoss
Comatrol
BLUE RIDGE ELECTRIC COOPERATIVE INC
Tri-County Technical College
HUSQVARNA
TD Bank
Pickens County
Palmetto Plating
Shaw AREVA MOX Services LLC
Shaw AREVA MOX Services LLC
Shaw AREVA MOX Services LLC
Shaw AREVA MOX Services LLC
Shaw AREVA MOX Services LLC
Shaw AREVA MOX Services LLC
Shaw AREVA MOX Services LLC
Shaw AREVA MOX Services LLC
Shaw AREVA MOX Services LLC
One World Technologies
McCormick Co. Chamber of Commerce
Wallace Tool and Die
Shaw Industries - Central
City of Clinton
Boral Stone Products LLC
Walhalla Area Chamber of Commerce
School District of Oconee County
Oconee Medical Center
Hamilton Career Center
Covidien
Itron
Central Carolina Technical College
Greenwood School District 52
Avery Dennison
Reynolds Family Dentistry
Firmin Ford
Agnew Development LLC
Allstate Insurance
Flexible Technologies Inc. Thermaflex


Division

Capsugel
GLEAMNS Human Resources Commission
Greenwood Forgings
Sykes
Ascend Performance Materials
Greenwood Mills Inc.
Wesley Commons
Piedmont Technical College
Self Family Foundation
G. Frank Russell Career Center
Greenwood Chamber of Commerce
Lander University
Greenwood School District 50
Greenwood School District 51
Greenwood Partnership Alliance
Upper Savannah Regional Education Center
Schneider Electric
ACE Bakery
Snak-Time Foods
Saluda County Schools
SC Technical College System
VCI-SC Inc.
Sumter Development Board
Horsehead Corporation
Clarendon School District One
Upper Savannah Council of Governments
Upper Savannah Council of Governments
Upper Savannah Council of Governments
Upper Savannah Council of Governments
Upper Savannah Council of Governments
Upper Savannah Council of Governments
Upper Savannah Council of Governments
Clarendon County Development Board
Core Molding Technologies
Brown Packing Company Inc
Hamrick Mills
Denmark Technical College
BorgWarner TTS
Cherokee County Development Board
Baptist Easley Hospital
Alfmeier Friedrichs & Rath
Anderson School District 3
DSS Anderson County
Anderson Area Chamber of Commerce
Cross Country Home Services
Walgreens Anderson DC
Cherokee County Chamber of Commerce
Glen Raven Custom Fabrics LLC
Express Employment
Smart Pulse
AFL
Mobile Meals of Spartanburg
Herald Journal
Cooper Standard Automotive
PROGRESSIVE SCREEN PRINT AND EMBROIDERY
Kapstone Kraft Paper corp.
Sleep Easy Matress
Wendell Fabrics Corp.
Cherokee County Chamber of Commerce
Cherokee County Council
Spartanburg Community College - Cherokee


Campus

Chapman Cultural Center
Tindall Corp
Renfrow Brothers Inc
Clerestory Projects Group
American Services
American Decorative Fabrics
preferred finishing inc
J.I.T. Manufacturing Inc.
Rieter Corporation
Wilbert Plastic Services
The Timken Company
Tahoe LLC
StaffMasters
Omnova Solutions
Elite ES
NBSC
Aero Precision Products
Showa Denko Carbon Inc.
Kapstone
Argos USA
Trimaco LLC
The Gaffney Ledger
F. E. DuBose Career Center
Bynum Insurance
Techtronic Industries North America
Jones Chevrolet Company Inc
Jones Buick GMC Inc.
Jones Nissan Inc.
Sumter County Government
Phoenix Charter High School
Century 21 Hawkins & Kolb
Spartanburg Chamber of Commerce
Norman Williams and Associates Inc
Starflo- The William Powell Company
The Item/Osteen Publishing Co.
Cox Industries Inc
Southeastern Laser Med Spa
Technology Solutions of S.C. Inc.
NBSC
Imperial Die Casting Company
Tuomey Healthcare System
EMS-CHEMIE (North America) Inc.
Sumter Packaging
BD Diagnostics
Carolina Filters Inc.
Kaydon Corporation
Christ Central Ministries
Fairfield Electric Cooperative
FujiCopian USA
Lang Mekra North America
Fairfield County School District
Total Protections USA
Fairfield County Chamber of Commerce
Fairfield County
Winnsboro Petroleum
Fairfield County Sheriff
Hacker Instruments
Fairfield Memorial Hospital
Fairfield Economic Development
Ben Arnold Beverage Company
The Shaw Group Inc.
Anderson Interfaith Ministries
Performance Fibers
Isola Group
Palmetto Imaging Technology
MBF Services LLC
Midlands Biofuels
PMR
First Palmetto Bank
Clarendon County Chamber of Commerce
State Farm Insurance
Prothro Chevolet Co.
Maximum Potential Training
The Rushton Insurance Agency
The Parenting Place
Cossbann Software & Networking
Goodwill Industries
Edward Jones - Easley
United Way of Pickens County
Palmetto Finishing
EDI
Michael Dent Insurance Services
Powdersville Water District
Kudzu Staffing
Greater Easley Chamber of Commerce
Fat Jack's Grillin and Chillin


Restaurant

Bishop's Body Shop
Porter's Fabrications
ADS Logistics Services
Orangeburg County Chamber of Commerce
Media Security Services
Burgess-Brogdon Building Supply Inc
Thompson Industrial Services
Thompson Construction
Thompson Industrial Supply
Plygem Siding Group
Sumter County Government
Enersys Delaware
Induction Coil Specialist Inc
Frontier Communications
Jones Chevrolet Company Inc
Agape Senior
Arby's/KFC Orr Company
Carolina Metal Finishing Inc.
Coca Cola Bottling Company Consolidated
First Citizens Bank
Lee County Government
International Paper
Hunter Builders Inc.
Southern Heritage Builders LLC
Air Filter Service Company Inc
United Way of Sumter Clarendon & Lee


Counties

Total Comfort Solutions
Comaxiam IT Solutions
Sumter County Department of Social


Services

Horry-Georgetown Technical College
Savannah Lakes Village POA Inc.
Wateree Community Actions Inc.
Radio Shack
Martech Research
Palmetto Goodwill of Lower South


Carolina

Especially Yours Too LLC
Stanley Forest Products LLC
Kogers Mortuary
Walterboro Ford
Brice W Herndon & Sons Funeral Home
Tractor Supply Co.
Alucoil North America
GenEarth Power Cycle
US Mouldings LLC
Select Laboratories
Walker Tire Co Inc.
City of Manning
A&K Mulch LLC
Henkels and McCoy Training Services


Group

Santee Electric Cooperative Inc.
Town of Turbeville
Town of Summerton
The Bruner Agency Inc.
Clarendon County
Meritor Automotive
Agtruss Inc.
Clarendon County DSS
FTC
Osborne Concrete
Bank of Clarendon
Gallman Personnel Services Inc.
Citizens Trust co.
The Links at Stoney Point
Ascend Materials
Self Regional Healthcare
Tinsley & Adams LLP
Town & Country Construction
AID Company
Black River Tools Inc.
Sage Automotive Interiors-Sharon Plant
Sage Automotive Interiors-Abbeville


Plant

Palmetto Rural Telephone
Skyworks Parachute Service
Carter Logging Inc.
Colleton County Sheriff's Office
Carolina Cool Inc.
Shannon M. Pye DMD PA
Olde House Cafe
Colleton County
Life Net of SC
Coastal Ambulance
Colleton Preparatory
Bright Matthews Law Firm LLC
YH America South Carolina
Edgefield County Chamber of Commerce
Edgefield County
Trantech Radiator Products
Edgefield County Adult Education Center
Advertiser Printing Company
Horry County Government
Saluda Nursing Center
Baldor Electric - Conveyor Components
Palmetto Health
Pure Power Technologies
FN MANUFACTURING LLC
Loxcreen MetalSource
Mekra Tool & Mold LLC
Apex Tool Group
Marlboro County Adult Education
Midlands Technical College
Apex Tool Group
Lexington County School District Two
Prysmian Cables and Systems USA LLC
CSI Security Inc.
Coastal Electric Cooperative
The Citizens Bank
Lexington County Fire Service
Palmetto Synthetics LLC
Treleoni LLC
Lexington School District Four
CMC Steel
Comfort Services
Edgefield County Hospital
Abbeville Public Utilities
Precision Plus
Abbeville County
Abbeville County Economic Development
Greater Abbeville Chamber of Commerce
Abbeville County School District
Abbeville County Career Center
Pro Towels
Abbeville Area Medical Center
Carolina Fabrication Inc.
City of Abbeville
Overholt Truss Co.
Stoll Trailers
Mullet Door
Global Refrigeration
Merl's Countertops Inc.
readySC
readySC
Covan's Insulation Co. Inc.
Apprenticeship Carolina
Continental Tire the Americas LLC
Walterboro Family Practice Assoc. PA
Walterboro Family Practice Assoc. PA
AvCraft Technical Services
Saluda Senior Center
Gentry's Poultry
SC Department of Corrections
State Farm~ Kelly White Agency
Willow Creek Apartments
C.B. Forrest & Son
Sunny Z Foods
Added Touch
First Citizens Bank
Sonic
Newberry County Council
Insite Support Services
readySC
readySC
Gallman Personnel Services, Inc. (GPS)
SWM International
Southern Environmental Systems LLC
Newberry County DSS
Remedy Intelligent Staffing
Apprenticeship Carolina
Newberry County Adult Education Center
Apex Tool Group
District Five of Lexington and Richland


Counties

Carolina Cotton Works Inc.
4S Sign & Supply Inc.
Suminoe Textile America
Barnwell County Career Center
Covidien
Town of Blacksburg
Sloan Construction
Community Initiatives Inc.
Greenwood County DSS
Lincoln Heritage
Menardi
South Strand Dental Associates PA
Starting Block Career Services LLC
DuPont
IWS Inc
IWS Inc
IWS Inc
Robert Bosch LLC
ArcLabs Welding School
Shade & Shutter Expo
Sarlaflex
SCMEP
Arthur State Bank
Elmore Land & Site Developing Inc.
Apprenticeship Carolina
readySC
Emitec Inc.
Santee Cooper
Shade and Shutter Expo
Simpson Lumber Company LLC
Anderson County
Menardi
Union County Advanced Technology Center
Schaeffler Group USA Inc.
Anderson County
Phoenix Services Inc.
Powers Funeral Home
Sam Kendalls
TruVista
SubStation II
AllStaff Employment
Veterinary Medicine & Surgery
Galloway Enterprises Inc.
WPUB/WCAM/Kershaw Radio Corp.
Central Carolina Technical College
Kershaw County Chamber of Commerce
Duke Energy
ATEC
Lugoff Elgin High School
Kershaw County School District Adult


Education

Hengst of North America`
TB Kawashima USA Inc.
Kershaw Health
SC Works/Kaier Group
City of Camden
Flakeboard
Stanley Black and Decker
Laurens County Adult Education
Cooper Motor Company
Greenwood Genetic Center
Greenwood Fabricating & Plating
V&R Consulting, LLC
Eaton Corporation Hydraulics
Burton Center
Apprenticeship Carolina
Greenwood Capital
Caterpillar Inc.
Newberry County Auditor's Office
Stokes-Trainor
School District of Newberry County
Newberry County Chamber of Commerce
Newberry County Career Center
City of Newberry
Newberry County Library System
SC Vocational Rehabilitation
readySC
McCormick County Adult Education Center
McCormick County Senior Center McCormick


Area Transit

Regions Bank
The Bill West State Farm Agency
Legal Shield
SC Department of Social Services
Precept Staffing Inc.
Republic Services
Michelin Lexington Manufacturing
City of Bishopville
Greenwood County
Humane Society of Greenwood
Connie Maxwell Children's Home
Bowers-Rodgers Children's home
Meritor
Tyson Sign Company Inc.
Drunken Jack's
BNC Bank
Sheraton Myrtle Beach Convention Center


Hotel

Myrtle Beach Seaside Resorts
Boysen USA LLC
Myrtle Beach Area Chamber of Commerce
WPDE-TV 15
WWMB-CW TV 21
Herald Multiforms Inc.
Paige's Human Services Consultants Inc.
MedOne Dialysis Clinic Dillon
Dillon (Superfoot) Kickboxing Clum
Veterans Affairs Office
Dillon County Economic Development


Partnership

County of Dillon
Perdue Farms Inc. Dillon SC
McLeod Medical Center Dillon
City of Dillon
Dillon Yarn
Dillon School District Four
Northeastern Technical College
Pee Dee Workforce Investment Board
Dillon County Technology Center
Dillon County Chamber of Commerce
Dillon County Library
Dillon Adult Education
Dillon County Economic Development
A.R.S. Marketing Inc.
A. LaFon LeGette Jr. Attorney At Law
Dillon County Council for the Aging
Little Treasures Learning Center
Town of Latta
Miller Plumbing and Electrical
Davis Automotive
Dillon Family Sports
The Petal Pusher Florist and Gift Shop
Brown and Caldwell
Southern Saless & Marketing Group
Grove Park Pharmacy Hospice Care
Edisto Pet Clinic
Orangeburg Consolidated School District


5

South Carolina Vocational Rehabilitaion
Atlantic Housing Management
Urban Outfitters
UPAC Orangeburg
Orangeburg Calhoun Free Medical Clinic
Creel Corporation
Horry Telephone Cooperative
Anderson Brothers Bank
Marion Chamber of Commerce
The Regional Medical Center of


Orangeburg and Calhoun Counties

Carolinas Literacy Network
Revelation Outdoor Management
AVM Industries
The Press and Standard
Battle & Vaught P.A.
Palace Theatre
Tanger Outlets
Shred Right Corp.
Pee Dee Regional Countil of Governments
Pee Dee Workforce Investment Board
Railraod Contractors Inc
Lancaster County Economic Development


Corporation

Southern Coast Insurance Group
Defender Resorts Inc.
National Golf Management
Pool Services Corp.
McCall Farms
HillSouth
Tony Jordan Insturance Agency Inc.
Beef O'Brady's
Badcock Home Furniture & More
Law Office of N. Davide Durant &


Associates

Tuscarora Yarns
Filtration Group/Filtrair
Surfside Realty Company Inc.
Lakeside Steel & Machine Inc.
Mason Tire & Auto Service Conway
Florence County Economic Development


Partnership

vacationmyrtlebeach.com
Beach Cove Resort
Ocean Creek Resort
Sea Watch Resort
Caravelle Resort
Bayview Inc.
Tower of Florence Inc.
4 Paws Properties
White Knight Investors Inc.
South Carolina African American Chamber


of Commerce

Talley Metals Technology Inc.
Grand Strand Insurance Services
Upstate Staffing
ProTec Plus Inc.
McAngus Goudelock & Courie
Hampton County
Nevamar Co LLC
Florence-Darlington Technical College
Florence School District One
IPC Supply Inc.
United Way of Anderson County
Orangeburg County Development Commission
SSMG Warehousing & Distributio
Chester County Natural Gas Authority
Britax Child Safety
Cool Amplubious Manufactuers


International LLC

Earls Body Shop
Spencer Industries Inc
Southern Metal Works Inc
American Machining & Mfg Co. Inc
Duer High Performance Composites
Precision Machined Components Inc
TICO
InSite Support Services
Tri-County Technical College
Autech LLC
Grand Strand Animal Hospital
SCANA Corporation
Bamberg-Ehrhardt High School
Anderson County Board of Education
Bamberg County Government
Bamberg County Government
Pavement Solutions Corp
The Clinton Chronicle
CTR of the Carolinas Inc.
Resolute Forest Productsq
Possehl Connector Services Inc.
Qune Medical
Shutterfly
Fab Fours
Hampton County Literacy Council Inc.
Thomas & Betts
Arnold's Pools Inc.
SCANA Corporation
Bamberg County EDC
Bamberg County Chamber of Commmerce
SRS STORES
Sarlaflex Inc.
Brabham Oil Company Inc./ D.B.A. E-Z


Shop

Mohawk Industries
JH Hiers Construction LLC
Walker Accounting & Tax
County of Dorchester SC
Briteline Extrusions
SCMEP
Stark Truss Co. Inc
Pyramid Enterprises Inc.
Reco Transportation
Grand Forest Inc.
Knight's Companies
Carolina Cushions Inc
Moore & Associates Insurance of Surfside


Inc.

Denmark Technical College
Coastal Corrugated Inc
IHG
Ponderosa Inc.
County Bank
Meg's House
Anytime Fitness
SPF North America
Greenwood CPW
Greenwood County Library
Michaels Arts & Crafts
Hospice of Chesterfield County
Town of Chesterfield
bennett motor company inc.
AVIAGEN
CRS - Diamond Staffing Services
Manpower
First Citizens Bank
Highland Industries
Cheraw Healthcare Inc.
Palmetto Insurance of Greenwood
J & P Park Acquisitions Inc.
Lakelands orthopaedic & Sports Medicine
Goodwill Industries of the Upstate
Brian Schoch State Farm Agency
Envirosep
Greenwood Municipal Federal Credit Union
The Greer Group Staffing Inc.
STAFFSOURCE Inc.
Comer Distributing Co. Inc.
US Foods
Greater Cheraw Chamber of Commerce
BGF Industries
Conbraco Industries
First Citizens Bank
Jacobsen Warehouse
Belk #27
FIRST PALMETTO BANK
Wendell Perdue Auto Sales LLC
CUSTOM MACHINING & FABRICATION LLC
Precision Components & Services
City of Lancaster
Komatsu
Talley Metals Technology Inc.
Carolina Truck Specialist
Meritor
Douglas Machine Shop Inc.
Lowe's
Frontier Communications
SERVPRO of Horry & Georgetown Counties
Pageland Screen Printers
American Stainless
Town of Pageland
Chick-fil-a Greenwood Mall
Sandhill Telephone Cooperative Inc.
Horry County Schools
Blue Ridge Electric Cooperative
Chickasaw Point Property Owners


Association

Chicasaw Point Golf Course
Foxwood Hills Property Owners


Association

Park Place Dentistry
Goldie & Associates
Powell Real Estate
Blue Ridge Bank
Oconee County Government
Johnson Controls Inc.
Trehel Corporation
BB&T
Parkway Products
Green Sustainable Solutions
Anderson School District 5
Fraenkische USA
Henkels & McCoy
Upstate WIB
Arntz
Susan Worthy -Bookkeeper LLC
Jan Waring Woods CPA LLC
Appraisal Services of SC Inc
LS3P Associates LTD
Double B Trucking
Summerville Journal Scene
Atsko
Bellamy Law Firm
Myrtle Beach Pelican Baseball Club
Mercy Care
Yadkin Mortgage
Alternative Health Clinic
The Printing Port
Hampton Inn & Suites - Oceanfront -


Myrtle Beach

Hamrick Mills
Draexlmaier Automotive
Momentive Speciality Chemicals Inc.
Rhodia
American Staffing
Trinity Highway Products LLC
Hussey Motors
Hampton School District One
KOYO CORPORATION
Brunson Construction Company
Omni Health & Fitness
First Quality
Procter & Gamble - Duracell


Manufacturing

BRUNSON BUILDING SUPPLY INC
David A Crotts & Associates
Greenwood Community Theatre
Ever-Green Recycling
Whiteford's Incorporated
ISE
Mar Mac Inc
Union County Development Board
Technical College of the Lowcountry
J.R. Wilson Construction Co. Inc.
Coastal Technologies Inc
Screwnatucs
Kershaw County Adult Education
Parker Hannifin Corporation Beaufort SC
Hampton Regional Medical Center
Coastal Plains Physician Associates
Coastal Plains Primary Care
Denmark-Olar School District Two
The Flower Barn
Petal Place Florist
Lowcountry Media Solutions
Blocker Boys Customs
Colleton County School District
Deborah B. Kane Attorney
Little Caesars Pizza
Ruby Tuesday
Belk
Provident Community Bank
Woodmen of The World
Union Housing Authority
City Tire
Farmer's Home Furniture
Santuc Precision
Union County YMCA
State Farm Insurance
Bantam Chef of Union LLC.
Arthur State Bank
Midway BBQ
The Union Daily Times
Tire King
Hart Insurance Agency Inc.
Union County News
Comporium
Correll Insurance Group
Roberts Accounting LLC
Upstate Medical Supply
Kimbrell's Furniture
Bojangles of WNC
Kingsmore Construction Company
Adams Gyemant Griffin Advisors LLC
SSMG Warehousing & Distribution
Trinty Highway Products
GKN Aerospace South Carolina
SC Dept. of Employment & Workforce
Cox Industries Inc
H. T. Hackney
C.M. Steel Inc.
Blue Star Silicones
Keller USA Inc.
Quick Tech Machining
Beaufort Regional Chamber of Commerce
Union Disabilities & Special Needs
Henderson Plumbing
Badcock Furniture
Akebono Brake
Beaufort-Jasper Water & Sewer Authority
Lowcountry Economic Alliance
Bank of Walterboro
Enterprise Bank of SC
Carolina Closet Boutique
Whitman Mold Inc
PCPS Medical Billing
Ridgeland Family Denistry
Venture Inc of Beaufort
Hargray Communications
Duer
Spectrum Graphic Arts Center Inc.
Harris Pillow Supply Inc.
Hampton County School District 2
Hilton Head Hospital
Caring Hands Health Care LLC
UniHealth Post Acute Care-Low Country
Veterans Victory House
Greater Greer Chamber of Commerce
OCS Doors LLC
Haile Gold Mine Inc
Vaden of Beaufort
Greenville Technical College
XRD Inc
Denny's Appliance Service
Daniel Defense
EEC Irrigation
Veterans of Foreign Wars - Post 8760
Granan Inc. dba The Honey Baked Ham Co &


Cafe

The Housing Authority of the City of


Greenville SC

Upstate Regional Education Center
R. D. Anderson ATC
H. B. Swofford Career Center
Daniel Morgan Technology Center
CVS Caremark
CVS Caremark
CVS Caremark
YouthStop
Keyserling Realty
Liquidators Clothesline
Podiatry Associates
Phoenix Specialty
Young Office Environments
Tobul Accumulator
Town of Bluffton
Greyne Company LLC
Beaufort Memorial Hospital
Polar Service Center
Sherwin Williams Auto
Servpro N. Spartanburg
Chevrolet of Spartanburg
Spartan Custom
Community Development Corp of Marlboro


County

City of Bennettsville
Mintz Scrap Iron & Metal Inc.
Sealed Air / CRYOVAC
Image Collision Repair
Image Collision Repair
SC Vocational Rehabilitation Dept
Hi-Bridge Automotive Inc.
Laserflex Corp.
Pee Dee Regional Council of Government
Marlboro County Economic Development


Partnership

Circle F Farms LLC
Bennettsville Downtown Development


Association

Sodexo
Sopakco
Benson Cadillac Nissan
Domtar
Pro Physical Therapy
Advance Auto Parts #5380
Marlboro County School District
Boiler Tube Co. of America
Carolina Pregnancy Center
Superior Cabinets & Custom Furniture
Caroina Green Builders
Crown Insurance Appraisals
Jay's Welding
Home Instead Senior Care
Union Chiropractic Center
KTM Solutions
Eberspaecher
Eberspaecher
Greenville Technical College
Century Southern Inc.
Home Instead Senior Care
Union Chiropractic Center
KTM Solutions
Duer High Performance Composites
Town of Hilton Head Island
Beaufort County School District -


District Office

LCI-Lineberger Construction Inc.
US Foods
TE Connectivity
West Marine
Transaxle Manufacturing of America
Vision Metering Inc.
Pulcra Chemicals LLC
InChem
Kazoobie Kazoos LLC
New South Shirts LLC
SEM Products Inc.
Pee Dee Publishing Inc.
Northeastern Technical College
Schaeffler Group USA Inc INA
Crown Beverage Packaging Inc.
Chesterfield County
Chesterfield County Adult Education
Cheraw Chamber of Commerce
Pee Dee Reginal Council of Governments
Chesterfield County School District
Chesterfield County Economic Development


Alliance

Bon Secours St Francis Health
Beaufort County School District -


District Office

City of Bamberg
C.M. Tucker Lumber Companies LLC
Carolina Materials Corporation
The Greenery Inc.
McNair Law Firm (Beaufort County)
Koyo Bearings JTEKT
Carolina Custom Sign
Crown Beverage Packaging Inc.
EZ Products LLC
Greenville Health System
Dayco Products L.L.C.
Avtec Inc.
ASKO Inc.
Horsehead Corp
Housing Authority of the City of


Greenville

Goodwill Industries of Lower SC
Orian Rugs
Greenville County Schools
Santee Cooper
Whitman Mold Inc
Monteferro USA
swift books
Integrated Media Publishing
Mitchell Industrial Controls Co. LLC
SC Technology & Aviation Center
Airwolf Aviation Services LLC
South Carolina Vocational Rehabilitation


Dept-Beaufort

Sizemore Inc.
RECO Transportation
Giant Cement
Lauscha Fiber International
Key West Boats
Greater Summerville/Dorchester County


Chamber of Commerce

Waldrop Inc
JPS Industries Inc.
JTEKT Automotive Inc.
County of Greenville
Michelin Prime
Morgan Advanced Materials
ITG-Safety Components
Eberspaecher Exhaust Techonology of


America

Greenville Water
ARC Products Inc
GE Aviation
Southern Weaving Company
TBMC Inc.
GSP Airport
3RD Corner
Greer Police Department
Greenville County Schools
Greenville Water
Siroflex Inc.
Home Helpers
New York Life - Mark & Amanda Hopper
Greer Relief
Generations 2 Generations
Long Trailer and Body Services
Piedmont Women's Center
Bausch and Lomb
Stevens Aviation
Palmetto Peddlers
American Specialty
Rodl Langford de Kock LLC
Patrick Marketing & Communications Inc.
King Consulting
Greater Greenville Greeter
Palmetto Brick Company
Palmetto Brick
Palmetto Brick Company
Simsponville Area Chamber of Commerce
Confluence Watersports
Bunnell Lammons Engineering Inc.
DuPriest Construction Company
Lowcountry Insurance Services
Ashford Advisors
Caliber Home Loans
Harrell & Martin P.A.
Valpak of Greater Columbia
first national bank of south carolina
Phillips Staffing
Hearing Care of Summerville
Charleston Regional Development Alliance
Goodwill Industries of Lower SC
BES Janitorial
Brook Health Care LLC
Education Station LLC
WebsterRogers LLP
Cowboy USA LLC
CPJ Technologies
Time Warner Business Class
Murphy Business & Financial Corp.
Tidelands Bank
Grand Forest Inc
Grand Forest Inc
Kims Fine Jewelry
Chester Metropolitan District
Chester Sewer District
Livingston Insurance Agency Inc.
AME Inc
Ellett Brothers LLC
Rick Campbell Insurance Agency Inc
Michael Baker Jr. Inc
Spratt S&L
Chester County
MCON Construction Co.
Provence Messervy LLC
Coosaw Creek Country Club
MCon Construction
TruVista
City of Chester
Asset Integration Consultants
Wingate By Wyndham
Heritage Trust Federal Credit Union
C.T. Lowndes & Company
Ivy's nails
Brasfield & Gorrie
Bubble Tea Cafe
Children In Crisis
Lowcountry Building Blocks Inc. dba


Hobbit Hill Preschools

Roebuck Greenhouses
Aero Precision Products
LowCountry Womens Specialists
PrimeLending Mortgage
DeMott Law Firm P.A.
Cornerstone Financial Strategies LLC
M. B. Kahn Construction Co. Inc.
Homegrown Brewhouse
Sandalwoods Spa
World Express Courier LLC
Motor Cargo Sales Inc.
Greer State Bank
Beaufort County Department of Social


Services

SCANA Corporation
AllCare Living Services Inc.
IHG
Tuscarora Yarns Inc.
TNG
MacLean Power Systems
Supermetal
ProCal Professional Decals
Chester County Career Center
Dynamic Recovery Solutions
Morgan Advanced Materials
Greenwood Inc.
ADEX Machining Techologies
Sifford-Stine Insurance Agency
Ionic Technologies Inc.
City of Chester Fire Department
Lowcountry Council of Governments
Lowcountry Council of Government
Lowcountry Council of Government
Lowcountry Council of Government
Staffworks Group
Boys and Girls Clubs of the Upstate
Boys and Girls Clubs of the Upstate
Beaufort County Government
Pirates Voyage
Gold Crown Management Inc.
Chester County Schools
Kenco Logistic Services LLC
Mercom Corporation
RL Enterpise & Assoc. LLC
Palmetto Breeze
Palmetto Breeze
Palmetto Breeze
Palmetto Breeze
Palmetto Breeze
Chester County Library
Myrtle Beach Area Chamber of Commerce
Chester County Sheriff's Office
Rock Hill Coca-Cola Bottling Company
Beaufort Marine Supply Inc.
Moss Insurance Agency
Cherokee County School District
Greenville Forward
DNA Creative Communications
Goodwyn Millsand Cawood Inc.
Colliers International
City of Gaffney
Colonial Life Insurance Company
Hughes Agency LLC
MAU
Painter's Heating and Air Cond. Inc.
Gosnell-Chapman Vision Center
M.B. Kahn Construction
Op Tek Systems
The Harper Corporation
Greenville Downtown Airport
Automotive Air Inc.
Baldor- ABB
Oconee Economic Alliance
Oconee County Ecomonic Development


Commission

Oconee County Industrial Group
TCEDC
Sealed Air Corp. Cryovac Plant
2K Machine & Fabricating
Duke Energy-Oconee Nuclear Station
World of Energy
SNS South Inc.
Ulbrich Precision Flat Wire
Sharp Manufacturing Inc.
Sandvik
Precision Machining Inc.
Oconee Machine & Tool
Nason Company
Hilton Head Island-Bluffton Chamber of


Commerce

Mold Clinic Inc.
Menzner Lumber Co
Lift Technologies Inc.
Kroeger Marine Construction Inc.
Koyo Bearings USA
Kauffman Truss Inc.
Just Air Craft LLC
Jantzen
ITT Control Technologies
International Kitchen Supply
Integrated Support Systems Inc.
Itech South LLC
Innovative Concepts Inc.
Hi-Tech Plating Inc.
Ideal Steel Inc.
Greenfield Industries
Dynamic Fluid Components Inc.
Whitmore Plumbing
Drive Automotive Industries
James M. Cudd CPA
First Citizens Bank
Maddrey & Associates
Atrium Builders Inc.
Melloul Blamey Construction
Eye Associates of Chester P.A.
Conbraco Industries Inc.
Hardee by EVH Manufacturing Company LLC
Ten at the Top
Davita Gaston Dialysis
Louis P. Batson Company
Hometown Realty
Sunland Logistics Solutions
Beaufort County School District Adult


Education

United Catalyst Group
City of Travelers Rest
T&S Brass
Cafe at Williams Hardware
Verdae Development Inc.
O'Neal Inc.
Complete Public Relations
Hubbell Lighting Inc.
KTM Solutions Inc.
AVX Corp
J.Wesley Crumm III P.A.
Goodwyn Mills and Cawood Inc.
Ashmore Bros. a Division of Rogers Group
Ard Wood Holcombe & Slate Inc.


Architects and Planners

Tax Advantage Group
G.F. League Company Inc.
Shafer Huguley
Greenville Area Development Corporation
Tigges USA
Aloft Inc.
Sunny Pines Boarding Home
McCrory Construction Co. LLC
Image Collision Repair
Image Collision Repair
Barnard Tire Co. Inc.
Collins Pest Control LLC
Collins Pest Control
Adams Outdoor Advertising
Picanol of America, Inc.
The Blood Connection
Synterra
Scheetz Hogan Freeman
Office Depot
VLS Recovery
The Corps Store
Greenville Chamber
Merus Refreshment Services
International Plastics
readySC
readySC
readySC
readySC
readySC
readySC
readySC
Anderson 1 & 2 Adult Education
The Pires Group Inc.
Scott and Company CPA's
Rescom Construction
Marketplace Staffing Services
Henkel Corp
Schiller & Hamilton
Schiller & Hamilton
Coastal Security Services
General Electric Healthcare
Olsten Staffi
Greenville REC
Southern Palmetto Landscape Inc
Southern Palmetto Landscape Inc.
Poynor Adult Education
Southern Tree Services of Beaufort
Beaufort Cycles
Pender Brothers Inc.
Boys & Grils Clubs of the Lowcountry
Boys & Girls Club of the Lowcountry
Redline Inc.
PDM US Corp
Allen Tate Company
Greenline
DAK Americas LLC
Station 300
Net Solutions Technology Center LLC
Above and Beyond
Roper Staffing
Coca-Cola Bottling Company United
The Ultimate Media Group
Recruiting Solutions
Nic Vape
Adecco
BK Business Consulting Inc.
Prologistix/Resource Mfg
TFE Logistics Group
Ambassador Personnel
Pilot Travel Center 310
Lear Corporation
American Gypsum
Agru America
Florence Convention and Visitors Bureau
Florence Convention and Visitors Bureau
Henkels & McCoy
CVS Caremark
RR Donnelly
Georgia-Pacific
Summit Hills
Lohr Plumbing
Lohr Plumbing
Better Brands Inc.
Integra Fabrics
4Cable TV International Inc.
Senior Living Communities/Brightwater


Retirement

Swift Services Heating and Cooling
FWDG - Furniture Warehouse Sales
BedSmart
Furnish 123
Yamaha of Beaufort
Sutcliffe Pool Company
L T Wilson & Son
SERVPRO of Pickens County
Mergent Inc
Dollar General
Waccamaw Regional Council of Governments
Waccamaw Regional Council of Governments
Waccamaw Regional Council of Governments
Wild Creations
Precision Southeast
Lee County School District
Goodwill Job Connection
Goodwill Job Connection
Virginia College
Wiza Guyz
Ellen Sagar Nursing Home
Eaton Corporation
TransAmerica Agency Network
TransAmerica Agency Network
AARP
Danfoss
Dunbar Armored Inc
Dunbar Armored Inc
South Carolina Vocational Rehabilitation
Personnel Solutions
Corporate Staffing
Corporate Staffing
Remedy Staffing
Remedy Staffing
Express Employment Services
Spartanburg County Adult Education
Hamricks Inc
Publix
The Electric City News
Churchill's
Bimbo Bakeries USA
JR Automation
Sealevel Systems Inc.
The Chocolate Tree Inc.
Magnolia Bakery Cafe
Henkels & McCoy
Murr Printing
Clemson Area Chamber of Commerce
St. Jude Medical
Tomberlin (Vision8)
Brantley Construction Co. LLC
Duke Energy
County of Georgetown
Elite Specialty Care Inc
ReadySC
City of Georgetown
The Lakes at Litchfield
Parabasic Ambulance Service
Salt Gallery
Lollipop Shop
Coastal Physical Therapy Inc.
Alpha Services
Coastal Hand Therapy Inc.
Palmer-Dickerson Inc
Senior Helpers
Backwoods Landscaping and Nursery
LW Inc
Phoenix Services
Southern Machine & Tool
International Paper
Prince George Healthcare
Springs Creative Products
Victory Packaging
First Sun EAP
Flint Group NA
Anderson District 1 & 2 Career and


Technology Center

Golden Chick
DeWhit Inc.
Home Well Senior Care
Anderson Districts I & II Career &


Technology Center

Gulbrandsen Chemicals
Harvey's Barber Shop
Weichert Realtors Palmetto Coast
Rapid Refill #361
Zippy Lube
Help of Beaufort
Ramblin Coastal DJ Service
NuAir USa Corp
ATS Carolina Inc.
Toray International America Inc.
Colonial Florist
Bitty's Flower Shop Inc.
Buf's
Beaufort Boat & Dock Supply
Lulu Burgess
Bundy Appraisal & Management Inc.
Ballenger Realty
B&T Machine Shop
O'Brien's Professional Auto Service
Bob Woodman Tires Inc.
Bay Street Jewelers
Budget Print
Strecansky & Company
Raines Hospitality Inc.
Darby Electric
Roylco Inc
Design South Professionals Inc
Johnson Controls Inc. Power Solutions
Palmetto Peddlers
Pee Dee Electric Cooperative Inc.
Libby Holloway Appraisals
Dixie Aluminum Products Co.
Collins Craft Corp.
Cast Products Co. Inc.
Carolina Virgin Heartpine
Carolina Plastics Inc.
CG Roxane Water Co. Inc.
Buffalo Machine Mfg. Co. Inc.
BASF
Altera Polymers LLC
Spartanburg Economic Futures
Monkeys Uncle LLC
Lowcountry Bicycles
Vetronix Research Corporation
JP3's Renovations LLC
C. Williams Rush Gallery of


African-American Arts and Culture

Williams Viney and Farms
CoastalStates Bank
Dependable Service Plumbing
Angelo's Steak & Pasta
Socastee Eye Clinic
Servpro of Horry and Georgetown Co.
Surfside United Methodist Church
Coastal Carolina Property Management
Parsons Ouverson Stark Guest & Sandefor


PA

Hopewell Senior Day Care Center
Williamsburg County Government
DSM
PR Magnolia LLC
Florence County
The UPS Store
Primerica Financial Services - Davis


Group

Hutchison Group Inc.
Williamsburg Adult Education
Renew Our Community - ROC
Catawba Area Agency on Aging
Merchant Seen
MidSouth Metals
Tutor Doctor
First Reliance Bank
H.J. Corbett & Associates Inc.
Covert Aire
Town of Kingstree
Browns Bar B Que
State Farm Insurance-Toni M Ward
First Citizens Bank
Kingstree True Value
Williamsburg Pharmacy
Williamsburg County Development Board
Williamsburg County Water & Sewer
Bank Of Greeleyville
USDA Farm Service Agency
Harold T McGill Dist
Cafe On Academy
Worklink Workforce Investment Corp.
Allegro Industries
Palmetto Primary Care
Town of Williamston
Anderson School District One
Anderson School District 4
Williamsburg Technical College
H Alton Boyd Senior Center
Higher Ground
Coastal Staffing Services
Silo-Beaufort
Devro Inc
Five C's LLC
Downtown Marina Rental
Noah's Convenience Store
Lanier Parking
Modern Jewelers
Williams & Fudge Inc
Upstate Circle of Friends
JAG-Carolina High
Dillon Provision Co. Inc.
Connie's Bakery & Specialty Shoppe LLC
Cox & Cole Attorneys at Law
Classic Creations Beauty Salon
Walgreens Distribution Center
Innovate Anderson
The Peoples Bank
IMS of Belton Inc.
NAI Earle Furman LLC
Chicago Pneumatic Tool Co.
Atotech USA Inc.
Bradman Lake Inc.
C.C. Dickson Co.
IFCO
TTI Liberty
TTI - Springs
TTI - Anderson
Casual Cushion Corporation
Composite Resources
BaseLoad Inc.
Jameson LLC
VC3
Span-America Medical Systems Inc.
Woodward FST Inc.
MP Husky
SpecFab Services Inc
Hartness International
Engineered Products
The State Media Company
SC Works Upstate
WalMart
Nationwide
City of Anderson - Fire
City of Anderson - Police
City of Anderson - Administration
City of Anderson - Public Works
City of Anderson - Water
City of Anderson - Waste Water
Wilcox Office Mart
ReadySC
Goodwill Industries
Economic Development Partnership
Economic Development Partnership
Economic Development Partnership
North Augusta Chamber of Commerce
Lexington County Economic Development
Bridgestone
Lower Savannah COG
Comporium Inc.
Myrtle Beach Regional Economic


Development Corporation

Hitchcock Healthcare Inc
Ken Baker Originals
Wonder Works
Kimberly-Clark Corporation
Valmet
VistaBank
DayBreak Adult Care Services
RE/MAX Tattersall Group LLC
MICOM Life & Health Insurance Services


LLC

Aiken Properties
Aiken Real Estate Services Inc.
Real Estate One
IntelliSystems
Pacer Performance Inc.
Dunkin Donuts
USC Aiken Convocation Center/Global


Spectrum

Greater Aiken Chamber of Commerce
MAU Workforce Solutions
Public Education Partners
Goodwill Industries of MIGA & CSRA
Fairfield Inn & Suites by Marriott
Edward Jones Investments
Allegra Marketing Print & Mail
First Baptist Church
Tailored Tours of Aiken
Aiken Active Seniors
C. E. Dudley Engineering
Margaret's Garden Adult Daycare
State Farm-Collette Ball
Financial Preservation Specialists
People Solutions J.B.Chun and Associates
Park Avenue Lanes Inc.
3 Monkeys Fine Gifts
Southeastern Tool Co. Inc.
Maner Builders Supply Co.
Blake and Brady Boutique
Fosters Main Events
Benjamin's Bakery
Five Star Commercial Cleaning
ALLSTATES Textile Machinery Inc.
Belk Co Construction
lionel smith ltd
Children's Place Inc
Master Chevrolet Cadillac
First Community Bank
HTI Employment Solutions
Spartanburg Community College
Grand Strand Tech Council
Croissants Bistroy & Bakery
Jankel Tactical Systems LLC
Conway National Bank
Liberty Tax Service
Aiken Standard
Super 8
Lottsa Cheese (Papa Johns)
We Can Do It Cleaning Services
Trugreen
Condustrial
Conway Manor
Eastern Seaboard Management
Aerosoles
Coastal Carolina Association of Realtors
C+K Systems
R.C. Jacobs Inc
Goergetown County Department of Social


Services

Sign Shark
Wayne's Sporting Goods & Trophies
Georgetown County chamber of Commerce
A Father's Place
Georgetown County Family YMCA
Aramark
England Construction Company Inc
Beachside Home Care
The Village Group
Big M Casino
Securitas Security Services USA Inc
City of North Myrtle Beach
Yellow Cab
The Yahnis Company
Waccamaw Convenience
Jenkins Plumbing Company
Jockey Outlet
Lanier Parking Solutions
Conway Chamber of Commerce
Spann Roofing and Sheetmetal
Hair Safari
Laudisi Enterprises
Office Max
North Myrtle Beach Business Center
Horry County Disabilities & Special


Needs

Homewood Metal Works
Major Graphics
The Middleton Agency Inc
Middleton and Associates Realtors
Aiken Electric Cooperative Inc.
North American Container
Home Telecom
McFadden & Jenkins Taxi Service
K9 Cabana Dog Resort
Waccamaw Workforce Investment Board
FBi Construction
Greater Florence Chamber of Commerce
TDS Cable
Wren Middle School
Wren High School
Palmetto High School
Palmetto Middle School
Powdersville High School
Powdersville Middle School
Kelly Masonry
Upstate Healthcare Services
Chomarat North America
Town of Lexington
Spartanburg County
Upstate SC Alliance
Anderson Career Campus District 5
North Dargan Innovation CEnter
Carolina Mail Box
Victors Bistro
ReadySC
SC Department of Probation Parole &


Pardon Services

Darlington County Economic Development
RBC Bearings
Darlington County Adult Education
Nucor Steel
Sonoco Products
Greater Hartsville Chamber of Commerce
Greater Darlington Chambr of Commerce
Darlington County School District
RockTenn
NESA
York Technical College
Riverside Middle School
Business Writing Breakthrough LLC
Optimism Preventive Services
P-Dawgs
Howard Quick Cut
Atta-boy Plumbing Service
e'ellesse Event logistics solutions
Georgetown County Sheriff's Office
Certus Consulting LLC.
Howard Adult Center
Georgetown County Police department
First Citizens
Lakeside and Samfords
PoBoys Discount
Blackwater TLL
Envirosep
Disability and Special Needs Georgetown


County

Cardinal Health
Three Ring Focus
My Ideal Solutions LLC
SPC Credit Union
Berkshire Hathaway Home Services Myrtle


Beach

Pee Dee Electric
Screwmatics
Talley Metals
Perdue
Baldor
ARS Marketing
ADP
Dixie Federal Credit Union
ESAB
Marion Chamber
S & W Mfg A Smead Company
Honda of South Carolina Mfg. Inc.
Hinds Cowan Strange and Geer LLC
Optimism Perventive Services
Ice Creative LED
Conway Ford
Ivory Holdings LLC
Elliott Realty
Southern Coast Vacation
North Myrtle Beach Chamber of Commerce
Laptech Industries
Accord Architects & Engineers
Clark Jordan Interiors
Charleston Regional Development Alliance
Nucor Steel
first national ban of south carolina
McAlister-Smith Funeral Home
INTERSTATE MECHANICAL & MILLWRIG
W & W Truck & Tractor Inc.
Berkeley Citizens Inc.
York County Economic Development
Berkeley County
Florence Darlington Technical College
Red Iron Architects
Habitat for humanity of Berkeley County
TJ's BBQ & Burgers
Designs by Nature LLC
Charleston Steel and Metal Company
AMC Management Corp. dba McDonald's
Georgetown Communications
Alliance for Economic Development for


Georgetown County

Belle W. Baruch Foundation
Precision Southeast
Berkeley Chamber of Commerce
Viva Recycling of SC
Berkeley County Water & Sanitation
Fruit of the Loom
Lexington County Department of Social


Services

Santee Cooper
Bell Legal Group
Otis
Monster
Wellman Plastics
Mar Mac
Beneteau
Woodruff-Roebuck Water District
PSSI
Marion County Adult Education
Connie's Bakery
H. Alton Boyd Senior Care
Palmetto Primary Care Physians
Bows Bar B Que
State Farm Insurance
Bank of Greeleyville
Harold T McGill Distributors
Servpro of Horry and Georgetown
Alcoa Mt. Holly
Berkeley County Government
Donald L. Ellis CPA PA
Robert Bosch LLC
SC Works Lexington
Midlands Workforce Development Board
Middle Tyger Community Cneter
E. I. DuPont de Nemours
Berkeley Charleston Dorchester COG
Berkeley Charleston Dorchester COG
Berkeley Charleston Dorchester COG
Saint Leo University
CR Bard Inc.
Watson's Furniture
Coastal Kids Dental & Braces
Berkeley County Family YMCA
Cunningham-Waters Construction Company
Jocassee Designs
Spencer Hines Properties
Addy's Harbor Dodge
ARCpoint Labs
Harbor Freight
Sub Station II
Trimite Powders Inc.
CresCom Bank
Marion County Economic Development


Commission

Marion County
David Bowman Wealth Mgt. & Retirement


Consultants

Michael Johnson P.C. & Associates
Brian R. Murphy Law Firm
Robert Palmer and Associates
Ferrara Buist LLC
SUOMINEN NONWOVENS
Thompson Industrial
Accuride
SC Works Midlands
Midlands Workforce Development Board
The Cromwell Group
Carolina Risk Advisors LLC
The Tuttle Co. Inc.
Lemmonds Design Inc.
Nationwide Insurance
Canterbury Apartments
Caretaker Management Services Inc .
Cumming Corp Inc.
Berkeley County Water & Sewer
Viva Recycling
Heritage Trust Federal Credit Union
Holicim
SC Asphalt Pavement Association
Palmetto Corp of Conway
Ashmore Bros. Inc.
Carolinas AGC
Martin Marietta Materials
Dazzle's Hair Salon
Georgetown Kraft Credit Union
Phil Nase Insurance Agency
Michael Baker International
Santee Cooper
Trace Staffing Solutions
Alternative Staffing
True Value Hardware
Williamsburg Pharmacy
Condustrial
FBI Construction
Amtec
Town of Holly Hill
Verizon Wireless
ECPI
ECPI
Robert Robbins Attorney At Law
Marion County School District
SC Ports Authority
Berkeley County School District
Berkeley County Adult Education Center
Saint-Gobain ADFORS America Inc
Saint-Gobain ADFORS America Inc
The Urban Electric Co
Trident Regional Education Center
Georgetown County Dpt of Public Services
Georgetown County Recreation and


Community Services

Spann Roofing
Total Golf Commerce LLC
Truegreen
Williamsburg Technical College
ACHIEVE Program
Action Staffing
American Credit Acceptance
GCA Services
IH Services Inc.
Liberty Tax Service
Michelin North America
Nestle Prepared Foods
South Carolina Manufacturing Extension


Partnership

South Carolina Manufacturing Extension


Partnership

South Carolina Manufacturing Extension


Partnership

Spartan Technology Solutions Inc.
Springfield LLC
Toray Carbon Fibers America Inc.
Urban League of the Upstate
Vision 2 Destiny
Loyalty Business Solutions LLC
Trident Technical College
The Music Doctor Inc
InnerSight LLC
Town of Chapin
Loveless Commercial ContractingInc.
On Point Services LLC
ACI Worldwide
Town of Pelion
Greater Lexington Chamber & Visitors


Center

Hybrid Engineering Inc.
Core Care Medical LLC
Aerotek
Aerotek
Aerotek
Town of Batesburg-Leesville
Irmo Chapin Recreation & Aging


Commission

Lexington EMS
Lexington Veterans Affairs
Lexington County Museum
Lexington Airport
Town of Lexington
Lexington County Public Library
Chapin Concrete Contractors Inc.
City of Cayce
Peidmont Natural Gas
Pool Surgeons
Sam Carbis Services LLC
Ruiz Foods
Matrix Engineering Inc.
Greater Chapin Chamber of Commerce
Century 21 The Moore Group
Dawes Edwards DMD MS
Orangeburg Coca-Cola Bottling Co.
A Father's Place
Terra Firma
Advanced Protection Services
Pat Mor
Seaside Trucking
New Directions
Agape Home Care
Agape Rehab
Agape Pharmacy Services
Agape Hospice
Agape Physicians Services
Myrtle Beach Skywheel
Stueken LLC
Standard Motor Products
Gordon Food Service
Watson Engineering Inc.
Masstar Signs
Baldor Electric
Sealed Air Corporation
Numato Corp
Comprehensive Physical Therapy and


Rehabilitation

Palmetto Sleep Lab
SC Department of Social Services
Coast RTA
Carolina Foods of Loris
Conway Downtown Alive
Theatre of the Republic
The WM. Powell Co.
Carolina Comedy Club
One Stop Party Shop
Karma Ultimate Teen Nightlife
Shoreline Remodel
Katie's Project
Children's Museum of South Carolina
Tri-County Regional Chamber of Commerce
Orangeburg_Calhoun Technical College
Orangeburg Area Boys & Girls Club
N Brant Consultant LLC
Simply Southern Smokehouse
Grissett's Child Development Center
Black's Tire & Auto Service
Hudson Group
Coastal Staffing LLC
Mermaid Inn
DC Training
Lincoln Park
Professional Medical Training Center
United Contractors
New York Life
Client First
Horry County Fire and Rescue
Hobby Lobby
Ground Zero
Coastal Cancer Center
City of Conway
City of Conway Parks and Recreation
Beef O'Brady's
Palmetto School of Career Development
Badcock Furniture
Chipotle
Griswold Home Care
Conway Health Care
Lexington District Two
Fatz Cafe
Arbor E&T, LLC d/b/a ResCare Workforce


Services

The Regional Medical Center
Knights Apparel Inc.
MWV Community Development& LAnd Mgmt
Waccamaw Workforce Investment Board
Georgetown County Economic Development
Coker College
Darlington County FIrst Steps
Sound Solutions Hearing Care
Hartsville High School
North Industrial Machine LLC
Hartsville Oil Mill
Lifetime Hearing Service
Lifetime Hearing Service
Darlington County Sheriffs Office
Spartanburg Water
Spartanburg Steel Products
Exel Inc
Clarendon County Adult Education
City of Spartanburg
Contec Inc
Integral Solutions Group
A. Berger Inc.
Duke Energy
SJWD Water District
Southwind Engineering LLC
Clemson Extension
Robinson Construction LLC
Sterling Contract packaging Inc
York County Gov.
Lifeguard Fire Protection Inc.
Coca-Cola United
Zimmer America Corp
A&D Environmental
Decision Dynamics Inc
Mercer House Estate Winery
My Dessert Bar
KapStone Kraft
Streit USA Armoring
Barnet Polymers LLC
SC Ports Authority
Keep the Midlands Beautiful
York County Natural Gas
Waldrop Inc
Upstate Family Resource Center
Triumph Fabricators
StarChem LLC
Kenny's Bar-B-Que & Sourthern Seafood


Buffet

Carolinian Inn
Virgil Winn CPA
Fulton Septic Tank Service
Town of Irmo
Town of Springdale
AMAMCO Tool & Supply Co. Inc.
ATLANTIC COAST CANVAS COMPANY
Surface
CW Financial LLC
Palmetto State Armory
Sunray Flooring Co
Integrated Combustion Solutions
Edgewater Automation
The Times and Democrat
Hacker Industries
Westwood High School
AACSC LLC
Kool Flix
American Security
Nippon Carbide
Windstream Communications
Hilton Displays
Group of Patirots
JTEKT Automotive
Chapman Products
G&K Services
Hire Dynamics
Tru color
Human Technologies Inc.
Duke Energy
Faiveley Transport
Virginia College
Keenan Suggs Insurance Inc
SC Restaurant and Lodging Association
Sun Solutions
Univ. of SC College of Education
Mead & Hunt
MEI Detailing
Town of Swansea
Interstate Container
City of West Columbia
Express Employment Professionals
Lexington School District 3
Spartanburg Regional Health Services


District Inc.

AllStar Real Estate Group
Berwick Offray
CMC Steel SC
Mayer Industries Inc.
Chapin Concrete Contractors Inc.
Smith Drug Company
Nucor Building Systems
Jeter-Jones and Associates
Rock Hill Schools Adult & Community


Education

Bimbo Bakery USA
Catawba Regional Council of Governments
Breezer Holdings
Hoss Consulting LLC
SC Lions Foundation
Carolina Surveying Services
Kiawah Island Golf Resort
Earth Available Realty Inc.
AMCO Construction Company
Pioneer Farm Equipment
ICA Engineering
Alpha Manufacturing
Hahl Pedex
Russell & Jeffcoat - Columbia Branch
Aerotek
Tajo & Co. Inc. dba Quality Stitch
Town of South Congaree
Transfer Point
Anduran Inc
Tendercare Home Health
Cargo Composites
Sportsman Boats
GIS
Brown and Caldwell
Shealy Electrical Wholesalers
Office Depot - Business Solutions
SCANA
Cintas
Steelcore Industrial
Miyo's Harbison
Miyo's Lexington
Deluxe Cab
Hilton Garden Downtown
Sheraton Columbia Downtown Convention
Medallion Conference Center
Palmetto Athletic Center
Holiday Inn -Two Notch
Holiday Inn -Garners Ferry
Holiday Inn Express Hotel & Suites


Downtown Columbia

Homewood Suites
Comfort Suites - Ft. Jackson
Wingate by Wyndham - Columbia
Mid-Carolina Electric Cooperative
Flextronics
Nephron Pharmaceuticals Corporation
Riverbanks Zoo & Gardens
Mungo Homes
Machinery Solutions
Hansen International
JB Martin Co
Gira Steel
Lexington School District One
Allied Air
American Tool and Die
Fisher Tank
Blue Avenue
Blanchard
Southeastern Equipment and Supply Inc
S&ME Inc
Alliance Consulting Engineers Inc.
House of Raeford
Spirit Communications
Harsco Rail
Town of Pine Ridge
PrintSouth Printing Inc.
Otis Spunkmeyer
Specialty Woodworks Inc.
Natural Awakenings - Columbia Edition
Nemato Corp LP
Joint Municipal Water & Sewer Commission
Lexington Medical Center
Jumper Carter Sease Architects
Embassy Suites Columbia-Greystone
ARYZTA-Cayce Bakery
Roof Basket Works
Elesienna
Marwin Company
N.O. Truckn
Clover School District York 2
Park Sterling Bank
Richland County
Sagacious Partners
Koyo Bearings North America
New South Classics LLC
Senior Resources
Fowler Realty and Land Services
Pitts Insurance Team
State Farm Insurance Hanna Agency
AgSouth Farm Credit
Madison Insurance Group
PCLS
Lite House Partners Inc.
WeylChem US Inc.
Haier America Research & Development
Canfor Southern Pine
Suominen Corporation
Accuride
Kershaw County Government Center
Safe Driving Academy
Kershaw County Economic Development
M.B. Kahn Construction Co.
Quality Cleaning Janitorial Service
Burris Legal Group
Pest Plus LLC
U-Save Car & Truck Rental
Sun Stoppers West
Hampton Inn
Piedmont Medical Center
Staples
WO Blackstone
OTS Media Group
Comfort Systems of York County LLC
Panther Heating & Cooling Inc.
Stanley Black and Decker
Julian-JB-Burns LLC
Kershaw County Probate Office
Graham Realty
United Way of Kershaw County
NBSC
Kenneth Carson DDS
First Citizens Bank
Kershaw County Habitat for Humanity
Sheheen Hancock & Godwin LLP
Wateree Family Dentistry PA
Coldwell Banker United REALTORS
Alliance Consulting Engineers
Modern Turf
Midlands Printing Inc.
KM Video Productions
The Growth Coach
The Staffing Corps
Alpha Sheetmetal
SKF
Multiplastics
TIGHITCO
Fort Mill School District York No. 4
Rock Hill Schools York Dist. 3
York County Regional Chamber
Suominen Nonwovens
Human Technologies
Palmetto Moonshine
C. F. Sauer
City of Rock Hill
Pender Brothers Inc.
Rock Hill / York County CVB
Advanced Machine Works Inc.
Hall Industries
Credit Central
Meybohm Realtors
Pepper Hill Nursing & Rehab
State Farm Insurance - Hannah Clark
TPi - Tyler Press LLC
Nancy Cerra REALTOR
World Acceptance Corp
Eastern Industrial Supplies Inc.
A-Z Bill Payment Center
Double Take Consignment
Trinity Home Health
Goodwill Industries of Middle Georgia &


CSRA

Comfort Keepers
Cell Switch LLC
Kathy Campbell
IntelliSystems
Storage R Us
Talent Connections / Career Spa
South Company
Grove Medical
Pierburg US LLC
Sabai Technology
Michelin Development Co
CMS LABOR SERVICES
City of Greenville
The Whitmire Co LLC
Cely Construction Company
Blue Ridge Thermoforming
Legacy Charter School
SCMEP
Excel Machine Co. Inc.
RABY Construction Co. LLC
Piedmont Plastics
Cherokee Cycles
SHARE
Walker and Whiteside
DataNgine Consulting LLC
greater York Chamber of Commerce
Vibrant Marketing Solutions LLC
Upstate Fatherhood Coalition
Wyche Professional Association
Independent Coin
BEI Beach LLC
Four Star Plumbing
Michelin Lexington Manufacturing
Steen Enterprises
Comfort Suites
Caring Hands Health Equipment and


Supplies LLC

Hannah Solar Government Services
Lowe's Companies Inc
D.A.S.P.O.T.T
P&J Family Fun
AllStar Referral Group
Sweet Street Desserts
Snoozer Pet Products
The Salvation Army Krock Center
UPS Inside Sales
JRS Construction
Our Aiken LLC
Carriage House Inn
St. John's United Methodist Church
Meybohm Realtors- Downtown
Gentle Family Dentistry
Meybohm Realtors Property Management
Meybohm Realtors Commercial
Aiken Board of Realtors & Multiple


Listing Service

Greater Mauldin Chamber
Spartan Staffing
Sanitary Plumbing Contractors
Aiken Homes at Meybohm Realtors
Burns Dance Studio
Cheri McGee REALTOR (R)
Alice Crotwell REALTOR (R)
George Fansmith REALTOR (R)
Genny Fansmith REALTOR (R)
Nan Ya Plastics
Edward Jones Investments
Innovative Communication Technology
Goodwill Industries Upstate/Midlands
Woody Malone REALTOR (R)
Suri Industriesq
Porters Fabrication
Gail P. Toole REALTOR (R)
Coldwell Banker United REALTORS
Randstad Staffing
Norandex Building Materials
Peek Pavement Marking
Greenville Neck & Back
Center for Community Services
Walmart-2265
Hop-Tut LLC dba One Hour Heating and Air
Th'Cleaners
Prince Telecom
STG Inc.
Kru-Kel
Sign Source
Starflo Powell Valve
Sumter Mold Service
Oak Ridge Inc
OL Thompson Companies
Securitas Security Services USA Inc.
Charleston County Government
Allied Barton Security Services
Clark Powell Audiovisual
RdyToGo
SKC
Staymobile
Three Ring Focus
Skutchi Designs
Carolina Solar
Duplin Winery
Peace Corps
Kate Spade
Dumpster Depot llc
Recleim sc llc
Embassy Suites
Carbures USA Inc.
Barefoot Landing
Gander Mountain
MR Ducks
Jackson Hewitt
Taco Bell
Rite-Aide
Veterans Administration
Mirror Maze
Tumbler Bay
J&J Flooring
MTU America Inc.
The Carlstar Group
Mitsubishi Polyester Film
G-Five Inc.
Kelly Services
Alexium Inc.
Arts Council of York County
Will Transport Trucking Inc
Mayer Industries
JawNew Beverage
Bull Swamp Fab
Medtronic
Downtown Orangeburg Revitalization


Assoc.

Sunshine Recycling
Sunshine Aggregate
Sunshine Auto Salvage
High Density Space Savings Systems
Mancor Carolina
SCANA
Palmetto Development Group
Russell Jeffcoat Realtors
Compassion Health Care
Be Green Packaging
KBRS
Blanchard Rental Servicies
Coastal Carolina Hospital
Wildcat Steel & Fabrication
Hospice Advantage
Waste Pro
Tim Cramer Electrical Inc
ACW Logistics LLC
Multicom Welding
AGM Imports
Caraustar Recycling
Gretsch Drum Manufacturing
Gap Outlet
Ohio Grating Inc
Wayne Brothers
Johnson Controls Inc
iQor
Walmart
The Tack Room
First Community Bank
J Q H Hotels
The UPS Store
Dennis Stuber
Keith Watkins
Hospitality Staff
Blake & Ford
Roberts Oxygen
Walmart
Libery Cedar Products
Truckpro
Atlanatic Fabricators
Walmart
Palmetto Residential Electric
Seel's Outboard
MAHLE Behr
Will Transport Trucking Inc
Edward Jones
AAA Fence Company
Concrete Pipe & Precast
Charleston Waste & Recycle
US Foods
Morelli Heating & Air
Probuild
Palmetto Staffing
VA Clinic
Kangaroo 3490
Bi-Lo
South Wind Engineering
Zaxby's
Wilco-Hess 2458
Dicky's BBQ
Jimmyz Hibachi
Pacific Beach Wear
Fish Window Cleaning
First Citizens
Vastar Marketing
Big Blue Marble Academy
First Baptist Church Mauldin
Staybridge Suites Hotel
Sirius Realty
First Citizens
Dean's LTD
Service Master Clean
Glasspro
C. R. Hipp Construction
Owl Transportation
Platinum Body & Tow
31 W
EWING
SC Federal Credit Union
IFS Group
City of Mauldin-Public Works
Honda Cars of Rock Hill
Wolfe Mechanical
Dana Corporation
Steelfab
Palmetto Staffing Agency
York School District 1
Blacks Tire Service
Krystal Kleen
The Gun Store
Universal Forest Products
AARP
Plants Direct Network
Palmetto Staffing Agency
Wells Fargo
Pinnacle Staffing
Air Plus Heating & Air
The Sign Chef
Caring Hands Medical Equipment
Chrisitian Education Theological


Institute

Red Anchor Retirement Solutions
ANRO Packaging Warehouse
Stevens Towing Company
Metal Trades Inc.
Massey Services
Herrington Equipment
Harper Construction
SiPC
Don's Car Crushing
Pharmaceutical Associates Inc.
Mega Force
EnviroSep
Hydraulik USA
PIA
Ophelia's
Claflin University
South Carolina State University
Orangeburg County Sheriff's Office
The City of Orangeburg
Select Staffing
SC Appalachian Council of Government
All Clear Plumbing
Generation Be New
Dickerson & Ward LLC
Brown & Brown Insurance
Zeus Inc
Williams & Williams Attorneys At Law
Inn at Palmetto Bluff
Pizza Hut
Kroger
Palmetto Civil Group
Zeus
Charleston Power Sports
Graniyeeville Speciaty Fabrics
Heritage Pools LLC
Owens Corning
Superior Distribution
Howard Johnson
Kelly Services
Towne Place Suites By Marriott
Ruby Tuesday
Wolseley Industrial Group
Savannah River Remediction
Medical Services of America
M B Kahn Construction Co Inc
Longhorn Steakhouse
Job Shop
Fairfield Inn & Suites By Marriott
Sleep Inn
Regions
Kelly Services
Perry Broadcasting of Augusta
Cumberland Village
Clarion Inn & Suites
Hampton Inn
Holiday Inn Express
St. Francis Pet Services
Select Staffing
Butler America
Advanced Auto Care
McDonalds
True Blue
Secession Golf Club
fatz eatz and drinks
NW White
Alumnia
Sleep Inn & Suites
Smith Chevrolet
Bodycote
Assisting Angels Homecare
Comfort Keeper
Big Gun Robotics LLC
Laurens Estates Assisted Living
Inteplask Group AmTopp SC
Kinard Central Systems Inc
Red Lobster
Remedy Intellingent Staffing
Randstad Inhouse Services
Allied Barton Security
Pruitt Health
McDonald's
County of Kershaw
Home Depot
O'Reilly's Auto Parts
Beach City Self Storge
Staples
Moss Creek
Parker Hannifin
All My Sons Moving and Storage
Outback Steak House
Salvation Army
Construction Training Center
Burger King
AIG Financial Network
America's Best Inn
City of Orangeburg
Crane Merchandising Systems
Tender Care Home Health
Federal Burea Prisons
SC VOCATIONAL REHABILITATION DEPT.
FORT LAWN COMMUNITY CENTER INC.
Kelly Services
Carolina Personnel Services
SC Department of Probation Parole &


Parole Svs.

SMX Staffing
Kmart
Jamison Consultants LLC
Caring Partners By Middle Place
Avon
Husqvarna
The Samaritan House of Orangeburg Inc.
United States Post Office
Ashleigh Place Group Home
Pizza Hut Bamberg
The Regional Medical Center
South Carolina National Guard
Covenant Cove of Orangeburg
Experience Works
Trace Staffing
Bishop Gadsden
Sea Island Services
Frito Lay
Wholesale Glass
The Bell Company LLC
Ansco & Associates
Palmetto Youth Connections
Palmetto Community Action Patnership
Appleone Employment Services
NIBROL
LANCASTER COUNTY ECONOMIC DEV. CORP.
Quality Models of South Carolina
Denmark Technical College
Lincoln Heritage Life Insurance Company
Savannah River Nuclear Solutions
Ard Timber Company
Dillon Supply Company
Parabasic Ambulance Service
Terminix
Parris Paving
Shephards Care Hospice
County of Aiken
PEMCCO
NOCS (New Orleans Cold Storage)
NSS Plus (Network Security Systems Plus)
Mantech
Resource Employment Solutions
Remedy Intelligent Staffing
Kelly Services
St. Matthews Ambulance Service
Catherine Manor
CB&I
Red Lobster
Merry Maids
Port City Glass & Mirrors
Exit Realty Group
Zeltwanger LD
Staffmark
Glass Act Production LLC
K & K Trucks
LANCASTER ADULT EDUCATION
Interstate Tire Service
FPL FOOD LLC
Palmetto State Armory
Stock Building Supply
CB&I
Total Comfort Solutions
ENCARDRIA
Southeastern Aluminum
Nephron Pharmaceuticals
Gregory Electric Company Inc.
Sherwin Williams
Hilton Head Island Beach & Tennis Resort
Telamon Corporation
Experience Works
Aiken Auto Parts Inc
CHAPIN CONCRETE CONTRACTORS INC.
CHAPIN CONCRETE CONTRACTORS INC.
LABOR FINDERS
CORESTAFF
Global sales GroupInc.
All Pro heating and A/C
Mid Atlantic Clothing Recycling
Boeing
Palmetto Goodwill
Amedisys Home Health of Orangeburg
The Timken Company
Liquid Box Trucking
Fox Music
Duncan-Parnell
Southeastern Electrical Distribution
Automated Living Solutions
C.E.S. Construction Equipment Solutions
Carolina Chain and Cable Inc.
Morningside Assisted Living - Beaufort
Sears - Port Royal
Sleep Inn - Beaufort
Coastal Pipe and Fire Solutins Inc.
Wendy's
Universal Distributors
Lakeside Medical Response of Tri County


LLC.

North Charleston Sewer District
Palmetto Family Homecare
Bob Cat of Charleston
Southeastern Baking Co
William Smith Fireplaces & Home Accents
LowCountry Harley-Davidson
DES Dealer Electronic Service
KD Mechanic Shop
Aiken Self Storage
Consolidated Pipe & Supply
House of Raeford/Columbia Farms
CARS
DYCOS
WalMart
New River Auto Mall
Phillips Staffing
Target Corporation
Scott Barrie Mechanical
TMA Charleston LLC
Acrux Staffing (HireQuest LLC)
ASM
Moseley Technical Services Inc.
THE STAFFING ALLIANCE
LANCASTER COUNTY
Sexy by Nature
Thomas & Hutton
South Carolina Highway Patrol
Hilton Head Garage Doors
Beaufort Engineering Services
Home Helpers
Spinx Company
Staff One Plus Inc.
ISS Facility Services
Job Impulse
Resource Employment
ALSTON WILKES SOCIETY
Dial America
Durham Hardwoods Inc
McDonalds
Dyson Services
Fladger's Trucking
AAFES (Army Air Force Exchange)
International Paper Co.
Ansaldo Sts USA
Mars Petcare
ABM Industries Inc.
Amedisys Holding LLC
ConAgra Foods Inc.
Modulant IT
Salient Federal Solutions Inc.
Restaurant Technologies Inc.
LAQUINTA INN
Marathon Staffing Inc.
Aggreko
Aryzta LLC
Union Mortgage Group
South Carolina Logos Inc.
Davita
JD Byrider of Columbia
Johnson Food Service
Soothing Sessions Massage
E F Martin Mechanical Controls
Stewart Title Guaranty Company
Little People's Learning Center
HT Consultings LLC
Dynamics and Business
WPP Management
Stephen
American Spiral Weld Pipe
Richland One School District
St. Lawrence Place
Invista
Richland One Adult Education
Senior Matters
Fairfield Electric Cooperative Inc
Harps Beyond Paralegal Services
Elements
Akebono Brakes
Brother 2 Brother
Norfolk Southern Corp
Care Bear Learning Center
TRC Staffing
DTI Global
SOUTHLAND MEMORIAL GARDENS
Mid-State Heating and Air LLC
Genesis HealthCare
Sears Roebuck and Co.
Truegreen Lawn Services
Sage Right of Way Management Inc.
Boys & Girls Clubs of the Midlands
Westinghouse Electric Company
Fast Forward
Roper Staffing
Mead And Hunt Inc.
WB Guimarin & Co Inc.
Hometown Columbia Media
Master Electric
Advance Coating
Mid-Am Metal Forming of South Carolina
My Assistant Sylvia
Taylored Consulting
The McDowell Group
Contact 360
Lita's Treat
Global Industrial Services
STS
Walmart
Walker White Inc.
First Priority Medical Transport
Carolina Wrecking Inc
Modis Inc.
Harsco Corporation
Waste Industries Inc
Hubbell Incorporated
Neff Rental
AVAN Tech Incorporated
KALEF Consulting Services
Rotech Healthcare Inc.
Amcor Rigid Plastics
SIZEMORE
Centerpointe Construction Corp
UniFirst
Sanitary Solutions
EHJ Misc Steel Work LLC
Con-way Freight
TELAMON CORP
Utility Service Contractors Inc.
Labor Ready
Palmetto GBA
TM Floyd & Company
Fantastic Floors Inc.
RE Michel Company Inc.
Johnstone Supply
Permik Industrial Supplies Inc.
US Security Associates
Amazon
Staff One Plus Inc
Loricks Auto Repair
Sunbelt Rentals
RR Donnelley
Stock Building Supply
wiremonkey
A & B Trenching Co Inc
#1 Auto Sales
FULL BODY RELAXATION DAY SPA SALON
Institute for Environmental Health Inc.
Brookdale Senior Living
WMBF News
Complete Employee Services
Harbison Gardens
Corporate Staffing Services
ARES Corporates
Suntan Oasis LLC
Jgraham Enterprises
South Carolina Department of Corrections
Angelica Textile Services Inc.
Express Employment Professionals
CB&I Shaw Constructors Inc.
Johnson Controls
Watford Tile Inc.
Sherwin Williams
BeWell Home Services
Companion Data Services LLC
Crandall Corporation
National Educational Telecomms
Courtyard by Marriott NE
Knights Inn
Northwoods Mall
RECO USA
First Choice Realty
Ferguson Waterworks
ECPI
Firestone
Focal Point Designs
Lamar Advertising
STATE FARM INSURANCE
CPC Logistics Inc.
Amtis Inc.
Starbucks Coffee Company
XOtech LLC
Compleat Stair Co Inc
AMERICAN SPIRALWELD PIPE
NewBridge Bank
BB&T
Anderson Motorsports
Merchant Cooperative
Cooper Iron Works
Dillon Supply Company
Ford's Redi-Mix Concrete
Bearing Distributors Inc.
Eason Diving & Marine Contractors Inc.
Brookes Bed & Biscuit
A Chefs Kitchen
Boys & Girls Club
Bluffton Custom Images Inc.
Alon-Joy
BP Amoco Food Shop
Best Services of Beaufort
Candlewood Suites
Days Inn
AIG
Condustrial Inc.
Tru Auto (Mcelveen Auto Group)
International Paper
modulant
Enstar (US) Inc.
Soothing Sessions Massage
Colonial Life Unum
Carolina Wrecking Inc
MD Cleaning Services (Midlands)
UniFirst
TELAMON CORP
US Security Associates
Utility Service Contractors Inc.
Loricks Auto Repair
Institute for Environmental Health Inc.
Brookdale Senior Living
WMBF News
Express Employment Professionals
Watford Tile Inc.
The Paisley Peacock
Elliot's Cosignments
Town Square Realty
Classy Clippers
Diva Nails & Spa
Quality Golf Cars
Halo Salon and Spa
Omni Hotels & Resorts
Delaware North
Kangaroo The Pantry
Durham School Services
Verizon Wireless
Express Employment Professionals
First Quality
RL Enterprise LLC
Kudzu Staffing
Staff One Plus
Charleston VPC
Zuuk International
Nelson Signs
Honest 1 Auto Care
Zaxby's
Rooter-Man
All Is Well Pet
Hindon Corp
Corbett's Appliance Repair/Coastal


Appliance Repair

Pattison's Academy
Star Motor Service
Days Inn
Maxway
R & J Trucking
Linley Management Services LLC
Pier 1 Imports
Caliber Collison
Plugs Appliance Center
McAlister-Smith Funeral Home
Ostrom Painting and Sandblasting Company
H&R Block - Charleston District
Charleston Wholesale Florist
Charleston Lanehart Electric
Flooring Services Inc.
BES Design/Build
Chipton Ross
Best Western
Waffle House
Palmetto Inn & Suites
Denny's
Coastal Auto Salvage
Jos A. Bank
Alternative Staffing
ALSCO
Addus Home Care
Chasan Inc DBA Signarama
Smiley's Detail & Muffler Shop
Berlin's Resturant Supply Inc.
Charleston County Department of Social


Services

Ready SC Charleston Projects
ReadySC Boeing Project
Swinton Trucking
Warren & Griffin Lumber
Kairos Ventures LLC
Lowcountry Powersports
Cherokee Plantation
McDonalds
Aiken Brewing Company
Argos USA
South Carolina Manufacturing Extention


Partnership (SCMEP)

Appraisal Services of SC Inc
Knights Companies
Chick-fil-A
Upstate Tires and Wheel Inc.
Tractor Supply Co.
Home Depot
O'Charleys
Hammes Staffing Services
Charleston Steel & Metal
Brantley Construction Co.
CT Lowndes & Company
Tidelands Bank
Prysmain Cables
Red Roof Inns
HealthPort
LOTZ OF LOVE LEARNING
Novitex
St James Lutheran Church
Beam Bros. Trucking Inc.
Appliance Professionals LLC
Synovus Financial Corp
Bluechoice Health Plan Medicaid
CP&P Concrete Pipe & Precast LL
JQH Hotels
Wayne Brothers
iQor
C.R. Hipp Construction
Ross Printing
Carolina Funeral Services
Citrus Fresh Carpet Cleaning Inc.
RTR Incorporated
Chucktown Seafood & Cafe
South Carolina Legal Services
Davis Supply
LS3P Associates Ltd.
Presentable Properties
Octopuses Sea Designs
Foolish Frog
The Bark Shack LLC
AGM Imports
Meridian Metals
Bella Vista
Goody's
NCO Financial Systems
Industrial Container Services
Zales
Aeropostale
Amy's Hallmark
Rack Room Shoes
Bath and Body Works
Books A Million
Gap Outlet
Coach
Guess Factory
Sam's Club
Dollar Tree
Charleston Area Regional Transportation


Authority

Speedweell Weather
Rescare Home Care
Able Iron Works Inc.
Spherion
Rimtyme Custom Wheels
ABC Medical LLC
T&T Sportsman's Shop
Pep Boys
United Refrigeration
Baker Distributing
Vet Center
Saks Off 5th
Banana Republic
Ashley Furniture
American Eagle Outfitter
BELLSOUTH
Img College
Tommy Hilfiger
H & M
Terracon
Eagle Eye Towing
MobilexUSA
Polo Ralph Lauren
Old Navy Outlet
The Lane Construction Corporation
Chick-Fil-A
Sears
Planet Charleston
ADI Global Distribution
PST Productivity Solutions & Training
TRANSDEV
Mobil 1 Lube Express
Best Buy
One Main Financial
EatonCorporation
B.A.S.S. Security Systems
Hobby Town USA
St. Andrews PSD
Loving & Learning Educational Centers
West Ashley Veterinary Clinic
Charleston Adult Education
J. MARION SOMS FOUNDATION
INSIGNIA GROUP
US Security Associates
Ansaldo Sts USA
Bimbo Bakeries USA
Brookdale Senior Living
Express Employment Professionals
First Community Bank
Focal Point Designs
Information Resources Inc. Symphonyri
International Paper
JET TRANS LLC
Northwoods Mall
LANCASTER COUNTY NATURAL GAS ATHORITY
UNIQUEHAIR
ASC Construction Equipment USA Inc.
ELDECO
Carolina Communications Services
Gutter Guard
Job Corps
American Sail Inc.
MSI Viking Gage
Penhall Company
Gorilla Fabrication
Charleston Import Automotive
Trinity Meyer
women's Enrichment Center
CATAWBA INDIAN NATION
Ambassador Staffing
Sungate Medical Group
Baker's Counseling Service
Beaufort County License Office
Food Lion (Hampton)
PakNet Technologies
Charleston Imaging/Automated Business


Systems

King Asphalt Inc
Grady's Automotive Upholestry
HOPE IN LANCASTER INC.
LANCASTER COUNTY VETERANS AFFAIR
COOLEY GROUP
Cannon's Automotive
Sign It Quick
A-1 Discount Mobile Home Service
Once Upon A Child
Classic Marble
Staff Authority LLC
Borden Dairy
LANCASTER FATHERHOOD PROJECT
UNIVERSITY OF SOUTH CAROLINA LANCASTER
UNITED WAY OF LANCASTER COUNTY
CAROLNA COMMUNITY ACTIONS INC
NUTRAMAX
CITY OF LANCASTER
MORRISON TEXTILE MACHINERY CO
Chick-Fil-A
Peking Gourmet
Stiney's Funeral Home
China Kitchen
Goodys
Fred's
LANCASTER COUNTY SCHOOL DISTRICT
RICO INDUSTRIES INC.
CHESTER-LANCASTER DSN
POR-STAFFERS LLC
LANCASTER PAWN SHOP INC.
PAYDAY EVERYDAY
ANNA LAURA'S BOUTIQUE
IMPELLAM / CORESTAFF
STATAFORCE
FAULKNER ANIMAL HOSPITAL
REBOUND BEHAVIORIAL HEALTH
SUPREME CORES OF THE CAROLINAS INC.
LANCASTER CHAMBER OF COMMERCE
STORY EYE CENTER
AT HOME BY CASEY
SPRINGS CREATIVE
Chasland Industrial Supplies
Epting Distributors
Alpha TechnologyInc
Discount Tire Company
Rji Cable Techs llc
Hill-rom
Hartman Enterprises
MCG Mechanical
Masonite
Backstage Mirror Maze
Pepper Palace
Boardwalk Winery
Myrlte Beach Harley-Davidson
Amicis Brick Oven Pizza-Bistro
Lids Locker Room
Direct Tools Factory Outlet
Torrid
Blue Trunk
Five Star Guns
Rent-A-Center
Sea Island Animal Hospital
Sunset Finance
Quick Cash Pawn
SouthEastern Machining Inc
Hibbitt Sports
Oakway Tractor
Jock White Collision
Robbins Tire
Faithful Home Care Services
Calhoun County DSNB
Branham Roofing
RESOURCE PLUS
FIRST PRIORITY HOME CARE LLC
TOWN OF KERSHAR
TOWN OF HEATH SPRINGS
Escape Massage Center
Atlantic Chiropratic LLC
Great Clips
Little Flower Cleaning Service LLC
Newkirk Environmental Inc
GOODWORK STAFFING
Main Street Hair Design
Step Out Full Gospel
Allstate
H&R Block
Island Meat Market
GAME DAY SPORTS & AWARDS
STEVENSON - WEIR
1ST IN-HOME CARE PROVIDER
Nandina Home & Design
T.C. Realty
Gates Salon
Randy Young Custome Upholstery
Full Circle Construction Company
Pick-A-Pet 2
Hic Warehous Skateshops and Skatepark
Queen's Nails
Live Oaks Physical Therapy
Vet Team
Dairy Queen
Advance America
Parrish Tire
Premier Instruments
Sun City Hilton Head Community


Association

Valleycrest Landscaping
Gino Maren Enterprises
Rent-A-Center
Carolina Tanning Salon
SC DEPARTMENT OF CORRECTIONS
Weidner Landscaping
Lendmark Financial Services
Marriott Vacation Worldwide
National Security Service
Dunkin Donuts
Big Sky Enterprises Inc.
Allstate
Louie's Liquor
TitleMax
American General Life Insurant Company
Microtel Inn & Suites
H&R Block
Chester County Adult Education
W&S Handy Service
NAMI PIEDMONT TRI-COUNTY
Advance Auto Parts
Bug Busters
World Finance Corp
Boyles Real Estate Co Inc.
VETERANS AFFAIRS
The Magnolia Studio
Blanchard Equipment
Le Creuset of America
Southern Community Services
Edisto Chamber of Commerce
Ace Hardware
Southern Affairs Catering
Coastal States Auto Group
Forum Group
New South Construction Supply
Holiday Inn Express
Mr. P's Car Wash & Detailing
Potts Driving School
Annie B's
The Jeweler's Bench Inc.
HP Enterprise Services
Homeland and Security Solutions Inc.
Human Resource Professionals
RL Enterprises LLC
Express Employment
Agilent Technologies
NFI Industries
ASAP Expediting & Logistics
Weichert
In-Terminal Services
Mr Electric of Columbia
Intelligrated Services LLC
Gentiva Health Services Inc
CH Robinson Worldwide Inc.
Transitions Midlands Housing Alliance
Ben Arnold - Horry County
Amercian Reecross
Ozburn-Hessey Logistics LLC
STERICYCLE (3200)
Konecranes
Captian D's - Columbia Area
Advanced Disposal Services
AF First Farm Credit Bank
Columbia Red Cross
Magellan Health Services
Excape Beauty & Spa
Firehouse Subs
Holiday Inn
Keith's House of Plumbing
Restore Habitat for Humanity
Island Travel
Franklin's Tire and Service Center
Alvin Ord's Sandwich Shop
Battery Creek Veterinary Hospital
Edisto Creation Salon and Day Spa
Anchor Hardware
Colleton River Plantation Club
Alterations By Sarah
Boys & Girls Club - Bluffton
G4S WACKENHUT 0200
Ahern Rentals Inc
First Citizens Bank
Mail Contractors of America
S&S Barber Shop
Bi-Lo LLC - Shell Point
Pierce Lawn Maintenance
Hemsen's Haven
Causey's Tiger Air
Cooper Mechanical Services Inc.
Chacon's
Mergon Corporation
Mum's the Word
BNC Bank
Kalee's Hair & Tanning Salon
Badcock Home Furniture
The Petal Palace Florist
Alston Builders
Island Child
Teagues Fine Men's Clothing
Paul's Optical
Quinn's Diamond Jewelers
Anointed Hands Beauty Salon
CHRISTIAN SERVICES
Medical Services of America
Shoreline Medical Transport
Lowcountry Compounding Solutions
Furniture & Mattress Express
Premier Exteriors LLC
Worksman Cycles
Perkins Management Services
Eco Lab
The Fresh Market
Atlas Surveying Inc.
WinSupply
Corbitt Technology Solutions
Pilgrims' Inn
Sams CLub
Main Street Realty
Brooke's Bed & Biscuit
Which Wich
Beach City Health & Fitness
S&S Barber Shop
Kay Jewelers
The Westin Hilton Head Island Resort &


Spa

Stoneworks
Greenwood Communities and Resorts
China Express #1
PI Armed Services Bank
World Finance Corporation
Zoe's Kitchen
Tractor Supply
Econologdge
Gur's Automotive
GCA Services Group
Lucky Brand
South State Bank
Arauco-NA
Beaufort Home Team
The Beach House
Comprehensive Family Care
Shore Beach Service Inc.
Frost Family Medicine
ashley furniture
Trinity Fitness
Marine Federal Credit Union
One Main Financial
Lowcountry WIndow Tinting
Wright Directions Family
Parties with Panache
Dark Tide Gallery
Style to Bits
Carolina Stars Maintenance and


Construction Inc.

GCA Services Group
Kingston Builders
Waccamaw Flooring
Take it for Granite
Aaron's Embroidery
Lowcountry Seafood
ResCare Home Care
Hickory Tavern
Navy Federal Credit Union
Landon's LP
Waters Dry Cleaning
Wood Forest National Bank
Carolina Glass
Beaufort Air Conditioning
Easy Rentals
Terminix
Southern Comfort Wax LLC
One Main Financial
Alvin Ord's Sandwich Shop
Mary Kay
Bluffton Self Help
Bill's Liquors
Gay Fish Company Inc.
Lawn Solutions
Ameris Bank
Saint Helena Branch Library
IHOP
Brody's Bar & Grill
Indropz
Fleeting Voices
Don Ryan Center for Innovation
Brightstar Care
Gagets Resque
Sea Island Dentistry
Kings & Queens Styling Salon
Good Neighbor Free Medical Clinic of


Beaufort

Last Drop Vape Shop
Palmetto Finance LLC
Sea Island Land Survey
Swiss-Time LTD
Exit Hilton Head Realty
Goodwill Industries of the Southern


Piedmont

Grand sttand personnel
Palmetto Trainining inc no
OTS Media Group
McCormick County Chamber
New Hope Missionary Baptist Church
Piedmont Tech College
Holly Springs Baptist Church
Pine Grove
Alupress LLC
The Recon Group
El Conuco Caribeno Restaurant
Bamberg County EDC
McCormick Learning Center
McCormick Adult Education
Greenwood Metropolitan District
Manley Garvin LLC
The Bradshaw Group
Medtronic
Fuji Film
Permier Properties Real Estate
Blake & Sons Heating & Air
Boys and Girls Club of the Upstate
South Carolina Department of Employment


and Workforce

Cool Care Heating & Air
http://www.hendricktoyotanorthcharleston.com/
Mount Vernon Mills
City of Clinton
Laurens County School District 55
JTEKT/KOYO BEARINGS
Milliken Allen Plant
First Staffing
Jetline
Magnolia's of Gaffney
Mancan Inc.
Western and Southern Life
Wilsons Leather
Ambassador
Phillips Staffing
Action Staffing
Laurens County Scool Disrtict 56
The Spinx Company
Carolina Cotton
BIC Consumer Products Mfg. Co. Inc
Cleaning Superheroes
Richland Two Adult Education
Abbeville County Adult Education
Pendarvis Chevrolet
Abbeville County Library System
Piedmont Technical College- McCormick


County Campus

Bay Island Sportswear LLC
Alumina LLC
Red Seal Measurement
Family Footprint
Firmin Ford Inc
Piedmont Technical College
Main Street Laurens USA
Upstate Fatherhood Coalition
Related Clinton Manor
Wilson Tractor Inc.
Marine Pro Custom Boatworks
Falcon Boats LLC
Palmetto Heritage
Michael E. Fortune CPA
Piedmont Pulp Inc
Michael E Fortune CPA
Western Piedmont Educational Consortium
Bobby K. Ruff Rentals
Servpro Of Newberry and Laurens Counties
Packaging Corporation of America
Laurens County Trails Association
Forever Wild Adventures
Laurens County Soil & Water Conservation


District

LAURENS County Disability And Special


Needs Board

The Safe Home
Laurens County First Steps
Laurens County Emergency Medical


Services

Laurens County Cooperative Extension
Laurens County Community Foundation
Golaurens.com
Laurens Academy
Town of Gray Court
New Age Iron Works LLC South Livingston


Street Clinton SC United States

Metal Masters
Laurens County Museum
Kids Unlimited of Prosperity Inc.
Trucast LLC
Carolina Cutting Tools-Newberry
Industrial Pine Products
MacLean Power Systems: Newberry
Willingham & Son's Building
Bath & Body Works
ArctiChill
Senn Freight Lines Inc
Magnolia Manor-Greenwood
Mayville Engineering Company Inc.
Greenwood County
Colgate Palmolive
Sykes Enterprises Inc
Greenwood Mills, Inc.
Upper Savannah Council of Governments
Sc Department of Transportation
Waffle House
Pro Towels
Condustrial Greenwood
Sizemore Inc
Action Staffing
PMC Corp
Strataforce
Reliable Management Solutions
Kraft Heinz
PMR
Newberry City EMS
Eight Acres Recycling LLC
Superior Auto
Carolina Concrete
Comfort Care
BGEN
Upstate Warrior Solution
OpSource Staffing - Gaffney
O C Welch Ford Lincoln
Continental Tire the Americas LLC
Embassy Suites by Hilton Charleston


Airport Hotel & Convention Center

Greenville Safety Inc.
Advanced Diagnostic Institute
Cream N Sugar Coffee House + Bagels
Summers Estates
CMIT Solutions of Charleston
Health Force LLC
Tree Removal Columbia SC
Eastern Staffing & Recruiting
View all 3473 South Carolina businesses supporting ACT WorkKeys NCRC
Does your business support job applicants with an ACT WorkKeys National Career Readiness Certificate?
About ACT
Founded in 1959, ACT is a not-for-profit organization headquartered in Iowa City, Iowa, and dedicated to helping people achieve education and workplace success. ACT provides a broad array of assessment, research, information and program management solutions in the areas of education and workforce development.