South Carolina
Hover over the county name to view its location. Click to view full stats. Participating
County
Certified
County


ACT WorkKeys NCRC Levels
Platinum

897

Gold

58,657

Silver

204,797

Bronze

109,031
//= number_format($data['plus']) ?>
Job Profiles Completed
1,365
ACT WorkKeys NCRC Data: 01-01-2006 - 05-31-2017
Dec '16
Jan '17
Feb '17
Mar '17
Apr '17
May '17
Dec '16
Jan '17
Feb '17
Mar '17
Apr '17
May '17
2955
3376
3382
3389
3403
3428
3454
Bronze
#cda874
365 453 438 473 585 597
Silver
#cbccce
805 1056 996 1041 1256 1339
Gold
#c9b973
281 280 264 242 322 341
Platinum
#dadfe3
3 6 1 2 5 9
Number Of Monthly ACT WorkKeys NCRC Earned
Clicking an item in the legend above will allow you to filter data. Clicking 'Bronze' will hide it from the chart and clicking again will add it back.
100%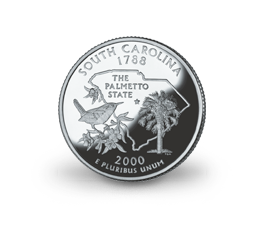 46 of 46 counties participating
Number Of Employers Supporting
South Carolina's Certified Work Ready Communities initiative aims to ensure the growth of South Carolina communities by creating an environment conducive to business and workforce development.
The state's work ready leadership team will continue to foster and build a coordinated and uniform partnership among stakeholders using the Work Ready Communities approach, leveraging and maximizing its collective workforce development efforts at the county, regional and state level.
South Carolina's vision is to ensure a ready workforce that serves as an economic development tool to attract and maintain businesses in the state. Its vision is to link education and workforce development together and align with economic development needs of the state, its regions and communities.
The Work Ready Community initiative enables community leaders to rally behind the concept of a ready-to-work workforce. Mayors, council members, superintendents,principals, teachers, and business leaders cheerlead this effort, creating a team approach to workforce development. The motivation for their engagement will be the achievement of being recognized as a Work Ready Community.
Read More

South Carolina employers are recognizing the ACT WorkKeys NCRC in support of Work Ready Communities goals
Does your business support job applicants with an ACT WorkKeys National Career Readiness Certificate?
About ACT
---
Founded in 1959, ACT is a not-for-profit organization headquartered in Iowa City, Iowa, and dedicated to helping people achieve education and workplace success. ACT provides a broad array of assessment, research, information and program management solutions in the areas of education and workforce development.