Texas
Hover over the community name to view its location. Click to view full stats.
Participating
Community
Certified
Community


ACT WorkKeys NCRC Levels
Platinum

1,880

Gold

7,807

Silver

17,986

Bronze

6,357
Job Profiles Completed
186
ACT WorkKeys NCRC Data:
01-01-2006 - 08-31-2022
Mar '22
Apr '22
May '22
Jun '22
Jul '22
Aug '22
Mar '22
Apr '22
May '22
Jun '22
Jul '22
Aug '22
589
343
344
344
345
347
347
Bronze
#cda874
38 28 32 40 16 51
Silver
#cbccce
48 48 40 68 51 77
Gold
#c9b973
41 45 36 45 48 71
Platinum
#dadfe3
32 26 32 36 22 71
Number Of Monthly ACT WorkKeys NCRC Earned
Clicking an item in the legend above will allow you to filter data. Clicking 'Bronze' will hide it from the chart and clicking again will add it back.
2%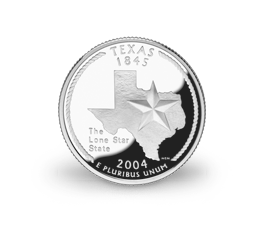 6 of 254 counties participating
Number Of Employers Supporting
About Texas Work Ready Communities
ACT Work Ready Communities (WRC) empowers communities and states with process, data and tools deployed in a common workforce development framework to drive economic growth by certifying communities as "work ready" when established goals are attained.
Think of it as a docking station where all participants plug into the common community-level ACT Work Ready Community criteria as part of establishing community goals.
The common criteria are based upon the ACT WorkKeys National Career Readiness Certificate (ACT WorkKeys NCRC) and business engagement to create a community-based workforce development process that links, aligns and matches the community's workforce development efforts to the needs of business and industry. The goal is for all participating communities to achieve certified work ready status.
ACT is leading this national effort with a two-session Boot Camp within a 3-month window to help participants share best practices, customize the national implementation framework or their own needs and build career pathways aligned to growth industries.
More on how to engage

Texas employers are recognizing the ACT WorkKeys NCRC in support of Work Ready Communities goals
Longview Economic Development


Corporation

Kilgore College
Longview Independent School District
Kilgore Economic Development Corporation
White Oak Economic Development


Corporation

City of Kilgore
Longview Regional Medical Center
J-W Power Company
AEP/SWEPCO
Bancorp South Longview
Joyce Steel Erection Ltd.
American HomePatient Longview SSC
Komatsu
Gregg County
Crosby Group/Lebus Mfg Company
AAON Coil Products Inc.
STEMCO
City of Longview
Smurfit Kappa Bates Container Inc
White Oak ISD
Region VII Education Service Center
Pine Tree ISD
Kilgore ISD
Jim Bartlett Fine Jewelry
Longview Glass
Longview Chamber of Commerce
WARFAB
Capacity of Texas
Trinity Rail
C. Niel Welding Inc.
INDEVCO Plastics Longview
Hugman Design Build
1st Choice Personnel
Turner Industries
Russell & Sons Construction
RLM General Contractors
Flanders Inc
Neiman Marcus Distribution Center
Sysco East Texas
Junior League of Longview
Spring Hill ISD
Hiway 80 Rescue Mission
Closure Systems International
3-D Plastics
ABC Auto Distribution
Jobs at Able
East Texas Veterans Resource Center
AeroTek
Basic Energy Services
Career Personnel
Convergys
Cleveland Steel Container
DARS
Express Professionals
Flint Hills
HatCo
Hudson Printing
Great American Coil
Yamaha/Skeeter Products Inc
Strathmore Products
Stuart Hose and Pipe
Zeftronics
West Machine & Tool Inc
DORS Community Services
East Texas Regional Airport
Longview Public Library
Christus Good Shepherd Medical Center
Heartisans Marketplace
Kelly Services
The Made-Rite Company
Womens Center of East Texas
Citizen Shipper
Scan Tech Instruments
Texas Iron and Steel
Longview Scrap & Metal
Holt Cat
Turn-Tex Machine & Tool Inc.
Advance'd Temporaries Inc.
Diagnostic Clinic of Longview
Custom Machine Services
GenPak LLC
Goodwill of East Texas
Habitat for Humanity Longview
Haute Goat Creamery
iClass Pro Inc.
East Texas Literacy Council
Norris Cylinder
Sam Dunn Enterprises Inc.
Southwest Steel Casting Company LLC
National Coil Company
Elwood Staffing
Labor Ready
LF Staffing
Spherion Staffing
Network Communications
Encore Multimedia
Forbes & Butler Visual Communications


Inc.

Cox Construction Company
Howard College San Angelo
Tom Green County
City of San Angelo
San Angelo Health Foundation
San Angelo Chamber of Commerce
West Texas Rehab
Historic City Center Project Inc. dba


Cactus Hotel

The First National Bank of Mertzon
The Earth Partners LP
San Angelo State Supported Living Center
Foster Communications Inc.
Angelo State University
KLST/KSAN
Christians In Action
San Angelo Area Foundation
City of San Angelo Development
KLST/KSAN NEXSTAR BROADCASTING
Little Reds Sewing Company
Rescare
Concho Valley Workforce Development


Board

Principal LED
ETHICON a Johnson & Johnson company
Angelo State University Small Business


Development Center

Standard Times
Texas Pacifico Transportation
Baptist Retirement Community
Christoval Independent School District
Galilee Community Development


Corporation

Kenny Blanek's Village Cafe & Catering
San Angelo Health Foundation
Howard College-San Angelo
Texas Bank-San Angelo
Strategic Business Solutions
Hirschfeld Industries
Shannon Medical Center Clinic and


Women's & Children's

CSA Materials Inc.
Reece Albert Inc.
Sunset Mall
Harbor Freight Tools
Woodspring Suites
1st Community Federal Credit Union
Wally's Party Factory
Budget Blinds
BEPC Inc.
Skyline Aviation Inc.
Premier Automotive
Royal Estates of San Angelo
DanHil Containers LLC
KIDY Fox
Mrs. Rios Corn Products
City Lumber & Wholesale
Sherwin Williams CO
Tarpley Music Coo
Grape Creek ISD
Rio Concho Terrace
West Texas Fire
Caron Transpotation
Randy's Bike & Run Shop
Allied Universal
RUE 21
Advanced Custom Windows
Evins Personnel
Technical Professional Group
Concho Valley Community Action Agency
EPM Engine Pro Machine
United Way of the Concho Valley
Happy Trails
Kilgore Chamber of Commerce
WeldCal LLC
Suddenlink Communications
River Oaks Veterinary Clinic
Concho Christmas Tree Farm
Surety Title Company
DeCoty Coffee Company
Longview Economic Development
Kilgore Economic Development Corp.
Closure Systems International
Winston Royal Guard
DCG Machine Inc
AEP - SWEPCO
Mitchell Buick GMC
Livestock Weekly
West Central Wireless
Lyndale at San Angelo
Maalt Transport
Sonic Drive-In
Spherion
Townsquare Media San Angelo
West Texas Medical Associates
Zales - The Diamond Store
Koberlin Apartments
Bruckner's Mack & Volvo
Bill Caldwell Electric Inc
Resort at Riverside
Bellagio at Sunset Apartments
San Angelo ISD
Gomez Bookkeeping
Alamo Village Apartments
Lowe's Home Improvement
TimeClock Plus® by Data Management


Inc.

Lithia-All American Auto Group of San


Angelo

Hartgrove Insurance Express
Eastman Chemical Company - Texas


Operations

Kilgore Independent School District
Concho Valley Council of Governments
Best Buy
Permian Drive Auto and Diesel LLC
Greater Longview Area Apt Association
Magnolia Ridge Apartments
Boomtown Industries
Regency Park Apartments
Technical Professionals Group (Goodyear


Proving Grounds)

United Tel Supply Inc
La Esperanza Clinic Inc
San Angelo Home Health
Grace Temple Child Development Center
Express Rent To Own
Rent-A-Center
Action Pawn
Permian Dr Auto & Diesel
Daybreak
Wingstop
Nurses Unlimited Inc
Hobby Lobby
Leos Imports
Cookies by Design
Scott Allison Real Estate
Elite Solutions
Allstate Insurance: Bill Eggar
Arbor Terrace
Park Plaza Nursing & Rehabilitation
FedEx Office Print & Ship Center
Texas Tiny Homes
G & G Automotive
West Texas Industrial Machines INC.
Ener-Tel Services I LLC
Bratton's Bargain City
Schumann's San Angelo
Salvation Army of San Angelo
Window Depot USA of West Texas
Arkcentric Inc
Michaels
River Place Apartments
McDonald's
Melody's Southwest Consortium
Cedar Crest Apartments
Mungia Southwest Heating & Air
Sloan Bookkeeping Services LLC
Droppin Brass
The Menard News
Brady West Rehab & Nursing
Jacoby's Cafe
Heart of Texas Healthcare System
Tutle and Tutle Trucking Inc.
Jacoby & Jacoby INC
TWS Outfitters INC.
Jodi Crudgington CPA LLC
City of El Dorado
M K Gas Col
Schleicher County
MK Gas
Parsons Heating Air Conditioning &


Appliance Service

National Memorial Planning
Sitel Corporation
Patriot Automation & Control
City Sweats & Eats
T4C Cross Texas Homes
Bruton Easy Pull Trailer Sales Inc
Los Panchitos
Sloan Bookkeeping Services LLC
International Brotherhood of Electrical


Workers

Serve Culture
Overhead Door of San Angelo
Southwestern Electric Power Company
The Wharf Restaurant and Tavern
Jordan
TEC Inc. (Tatum Excavating Company)
Adventus Technologies Inc
MTG Engineers & Surveyors
Wadley Regional Medical Center
Mayo Furniture
Ledwell
Westlake Chemical
View all 352 Texas businesses supporting ACT WorkKeys NCRC
Does your business support job applicants with an ACT WorkKeys National Career Readiness Certificate?
About ACT
Founded in 1959, ACT is a not-for-profit organization headquartered in Iowa City, Iowa, and dedicated to helping people achieve education and workplace success. ACT provides a broad array of assessment, research, information and program management solutions in the areas of education and workforce development.